Courtney's Move Update: The Before & The Planon February 24, 2020 at 11:00 am
Hello, it's Courtney here! Well, I have officially moved out of my apartment and into my parents' lower level! I'm here today to share more details on how we're laying out the new space and a bit of what our plans are!
But first, let me just say…can we talk about how moving is always at least 10 times more exhausting than you think it will be…and you always have WAY more stuff than you anticipate?! Ha! I swore I really didn't have that much stuff but wow, it was crazy how things seemed to continue to multiply!
If you missed the post explaining my move, you can catch up HERE.
Before I describe how my new space is laid out, I wanted to give you a quick reminder of where the lower level started out almost 5 years ago. For the full "blast from the past", watch our Seattle house before video…it's crazy to see how much the whole house has transformed! You can see our house tour with all our updates here.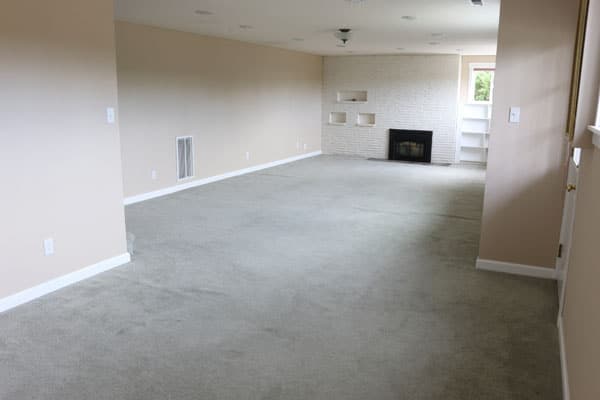 So, the main part of the lower level was originally one huge open room. It was the nicest basement we'd seen in our crazy Seattle house hunt. We loved how much flexible space it had, and because it's only partially underground it's full of cheery natural light.
(For context, my parents' kitchen is right at the top of these basement stairs!).
A year or so after we got the house, we installed new laminate wood floors, and we had a wall built to give us a home office. You can read more about our decision to build a wall in this post.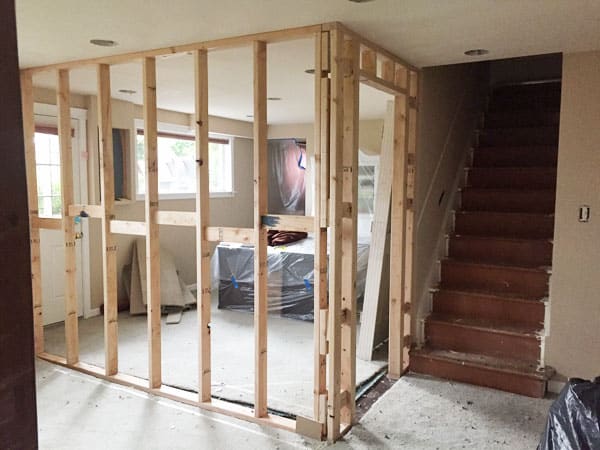 Here's where the wall was built…
And here are a few views of how the office looked after the wall! We also got new plantation shutters.
Adding the wall made the lower level feel even bigger and so much more functional.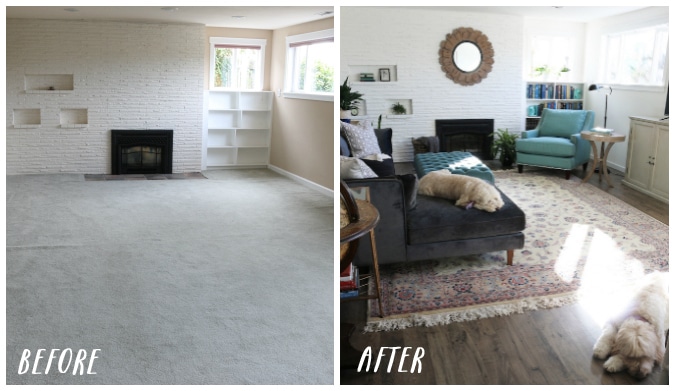 The fresh paint and new floors were a huge transformation, too.
So after we built the wall, the basement was made up of the living room with the fireplace, our office with the connected room we used for storage, and a hallway to the garage, bathroom, and laundry room.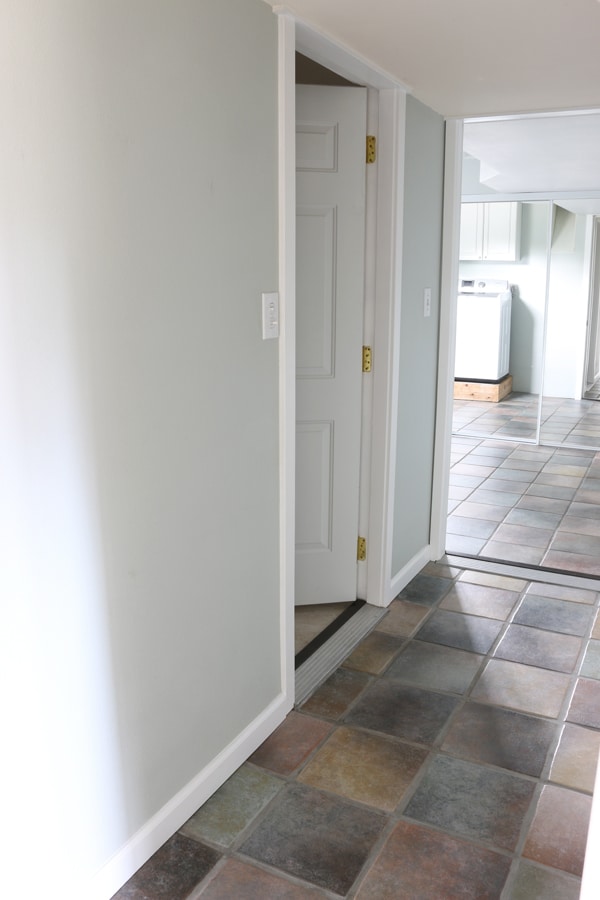 This is the hallway to the garage, bathroom, and laundry room.
This is the bathroom. It looks so different already with some accessorizing, and I've been planning some fun simple makeovers too that I'll be sharing here!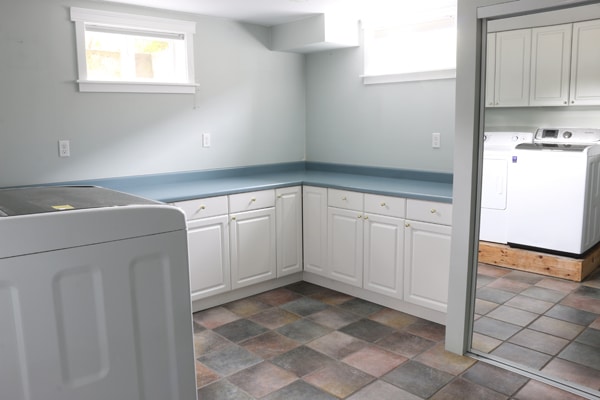 This is the laundry room, which will also serve as my kitchen. I'll do a blog post soon sharing how I'm setting this up as a usable kitchen!
You can see more of the laundry room and the connecting hallway in this post.
We thought through several options of how we could designate the lower level spaces before I moved in. We knew that we would make the laundry room into a kitchen/laundry combo (a kitchen for me, and shared laundry space for me and my parents).
For awhile we thought we would leave our office intact and have me take over the fireplace room as my apartment. In that scenario we would have added a wall at the bottom of the stairs to close off my space, and we even thought about opening up a doorway between the laundry room and the fireplace room to open it up to the laundry/kitchen.
Eventually we decided the simplest and best plan was to consider our existing office and the attached storage room my main apartment. The room with the exterior door (our office) would become my little living room, and the attached room would become my bedroom. The fireplace room would become our new organized office and work meeting spot, with a cozy seating area by the fireplace.
The lower level is overall considered my space now, but we share the laundry and will share the office space when we're working together! My parents really mostly live on their main level, so although me moving in has mixed things up a bit, the day-to-day life has stayed relatively the same.
I'll be sharing more peeks of my space as I get settled in (and have already been sharing some on my stories and in this thread in our new free community group!) but for now I'm happy to say that my plants successfully arrived here safely! I was definitely worried about transporting that string of pearls plant, so I'm relieved! I'm hoping it loves its new spot. 🙂
It's been so fun decorating and seeing my furniture (and my mom's furniture) used in new ways. Making a new place feel cozy and homey is one of my favorite things! I'm excited to share my small space decorating/organizing ideas and the mini makeovers we have planned, so I hope you'll follow along!
Stay tuned, and be sure to follow me over on my Instagram for updates and behind the scenes!
---
More details about Courtney's move
Courtney's Old Tiny Bedroom Tour