Deck + Patio Refresh + Outdoor Favoriteson April 16, 2020 at 10:00 am
For as long as I can remember I've talked about the value of creating "destinations" in our home for our family to enjoy. Now more than ever we need places to escape, relax and create memories all within the boundaries of our home.
All winter I look forward to when the weather allows us to get back outside and once again enjoy our patio and deck. I love having outdoor spaces to be creative with! It's been so fun to work on these areas of our property over the past few years.
Well, I guess I should clarify that. FUN may not have been the exact word I would have chosen every year, hahah. The first few years it was very slow going and we ran into a lot of unforeseen setbacks in completing the side patio. It was supposed to be a quick winter project but it literally dragged on for years. It felt like the project that would never end, which made it more frustrating than "fun."
There are still a few things that we haven't completed from our original plans, like the outdoor lighting in the concrete steps or installing the outlets we need to hang outdoor lights. But it's ok. We'll get to it all at some point! We are just happy that we are past the will-the-delays-ever-end stage. The waiting was frustrating, but it was all worth it. We absolutely LOVE spending time out here now.
When the sun came out last week I couldn't wait to get all of our cushions out and set up our deck and patio. We leave our outdoor furniture out all year (it's super durable) but we put the cushions, umbrellas and rugs away for the winter (in our sheds). (See this post for Outdoor Cushion and Rug Care and Patio FAQ).
We rearranged our "outdoor rooms" from how they were set up before in order to freshen up the look and create spaces that will better serve our needs this spring. I ordered a few new things to get us started so we could set up a new family area with new white adirondack chairs, striped cushions, and a fire pit.
I really miss heading out to shop for spring things or being able to stop in our local garden center to buy plants but at least we can still order things online! I included links in this post to some of my outdoor favorites and sales you might want to check out (or you can click here for a round-up of some of my favorite finds!)
Here are a couple of sales to shop and gather inspiration:
Another one of my favorite coastal-inspired stores has a 20% off sale right now!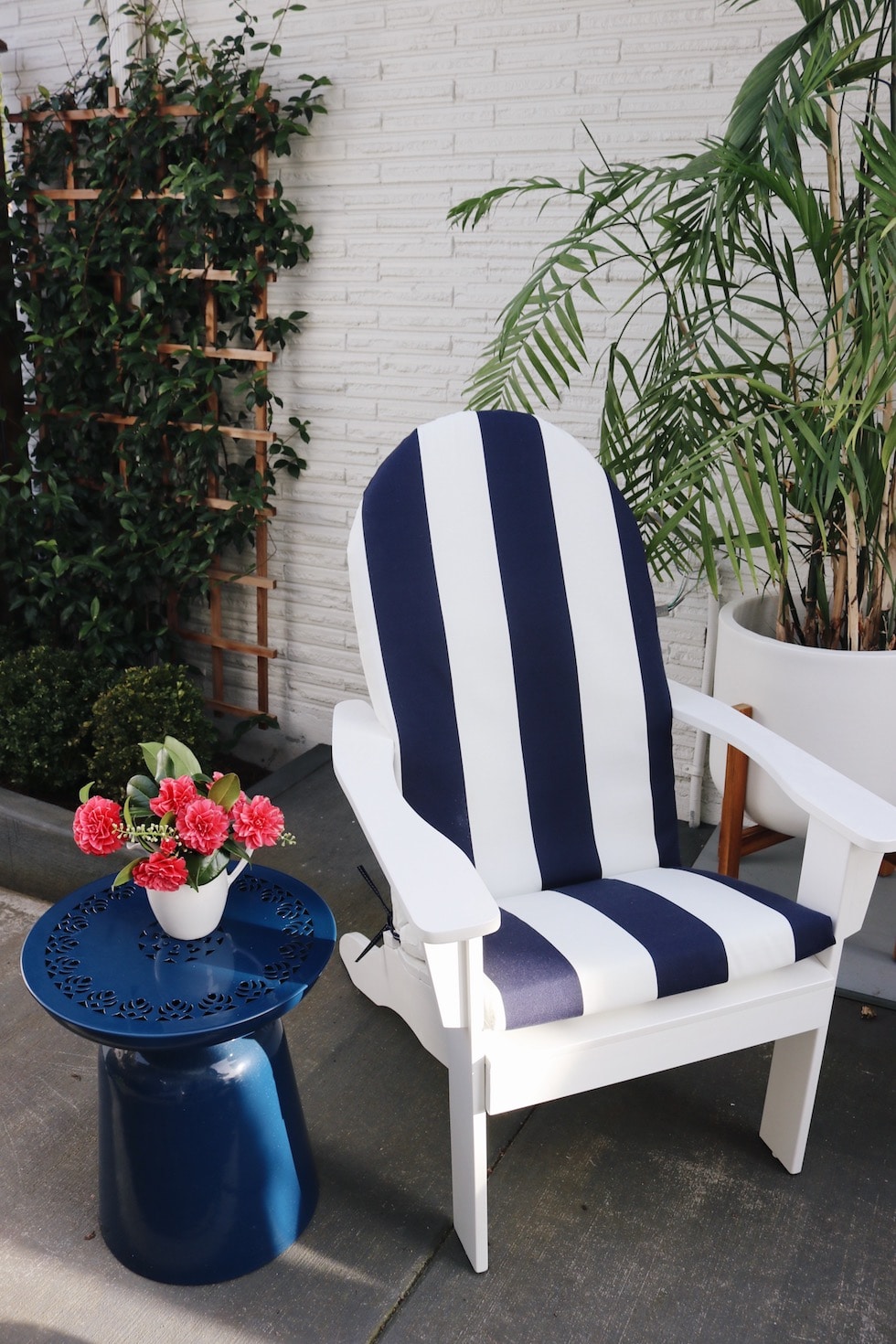 Navy Accent Stool / Adirondack Chairs / White Planter / Striped Cushions,
Dutch Door Details // Outdoor Wall Light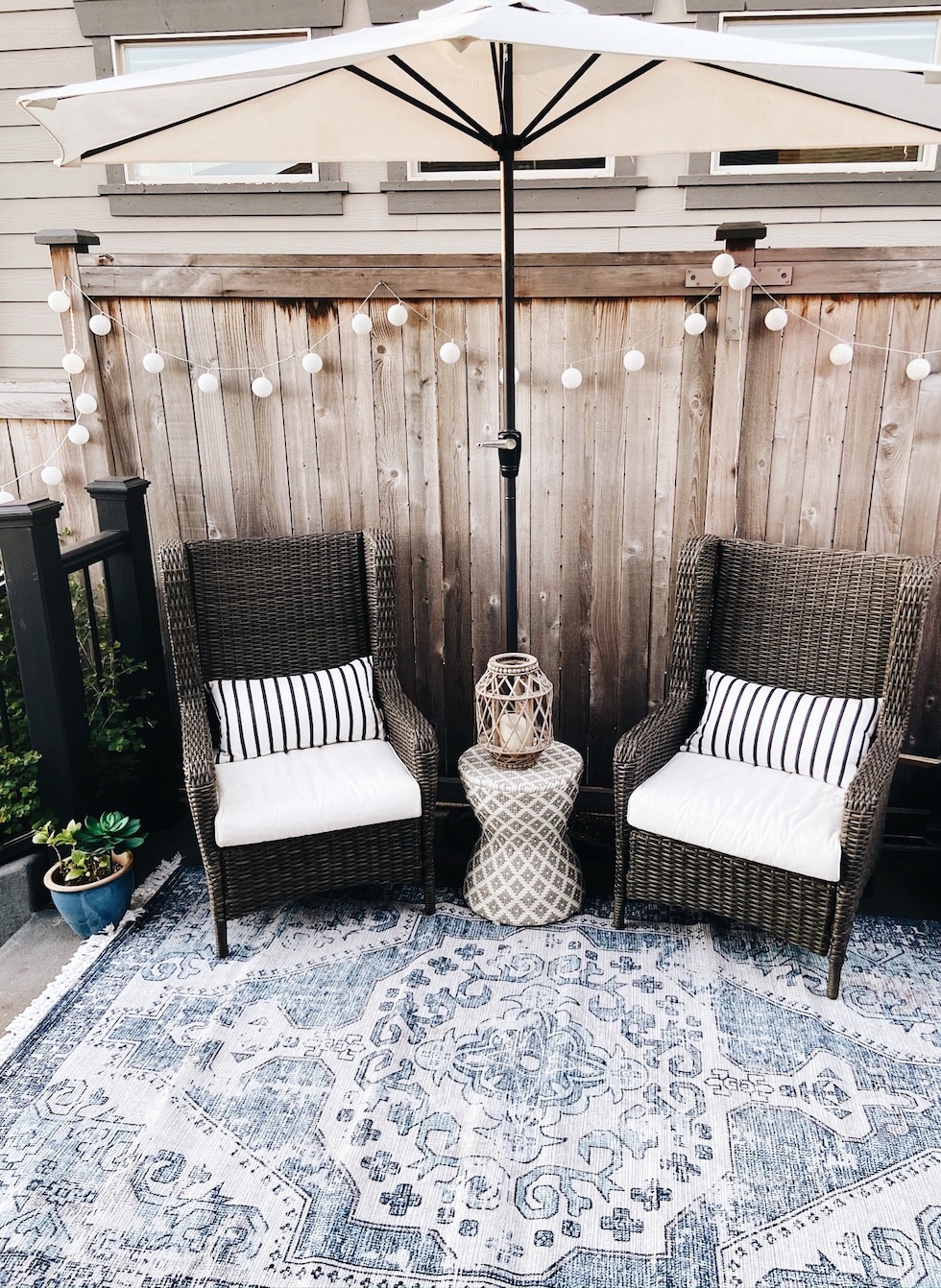 Half Umbrella // Half Round Umbrella Stand // Rug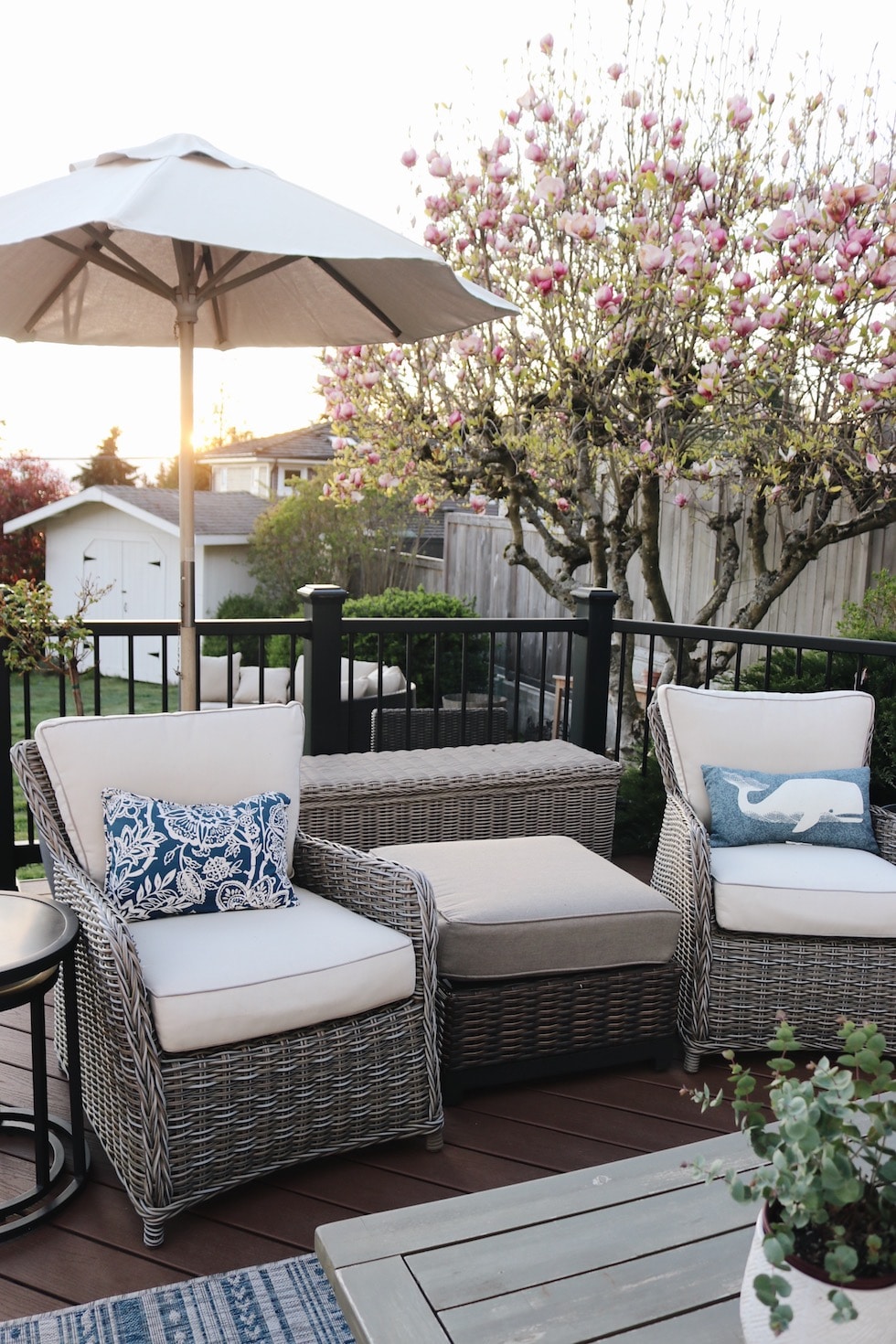 We also rearranged the furniture on our deck! We moved the dining table and brought down the sectional sofa pieces that we've had ever since we lived in our old house (the last two years they were where the adirondack chairs are now!). We bought a cute blue and white bench last summer and used it inside over the winter, but now it's found a perfect new spot on the deck.
I know we'll spend a lot of time out here this summer. We've already found various family members sprawled out on the sectional and we ate dinner at the outside table the other night, so I think that means we've found a comfortable and inviting arrangement for our family.
Can't wait to plant some pots and watch everything bloom!
Blue + White Striped Outdoor Rug / Similar Coffee Table / Bench / Deck Details
We got outside to roast marshmallows here in the fire pit the other night! It was so nice, it felt like summer. Even though it was a little chilly in the evening, the warmth of the fire made it super cozy.
Are you setting up your outdoor spaces?
PS. I had a few messages inquiring about an update on Courtney's new space (if you missed the news, she recently moved into our lower level). We haven't forgotten! I'm sorry for the delay on showing more of her space. She's been getting settled but we put several projects on the back burner due to Coronavirus. If you're on IG we showed a mini tour so far in this story highlight! We're still making progress though and promise to share an update very soon! 🙂
+ + + + + + + + +

---
Outdoor sales to shop and find inspiration:
Round-up of my favorite outdoor decor
Another one of my favorite coastal-inspired stores has a 20% off sale right now!
My home sources & latest decor finds