Detoxing Your Home + Daily Routines (+ Thyroid Update!)on February 27, 2020 at 11:00 am
Daily self-care is so important. If you are just joining in this little mini-series, start with the intro on home + body self care, followed by the importance of deciding how you want to feel (+ my detox bath recipe). Today I'll be talking about detoxing our daily routines. One of the things we can do to take care of ourselves and our family is to eliminate what doesn't serve us well.
Learning to better care for my home and body has been a 30 year journey for me. Detoxing my home and taking better care of myself has been worth it because I feel better than ever! I consider myself very healthy. Yet I live with Hashimoto's, an autoimmune disease (as well as the Epstein Barr virus). It's a daily battle to stay well. I've been promising to share more about that, so read on for a thyroid update!
What we bring into our home matters more than we realize, particularly when it comes to health. Many of the decisions I made years ago (good and bad!) still impact my health today. I didn't even know back then that I would eventually have a "condition" that would be directly impacted by my daily decisions!
Once damage to your body is done, it's harder (but not necessarily impossible!) to reverse it. That's why detoxing our home and daily routines should be a self-care priority, whether you have a health condition right now or not.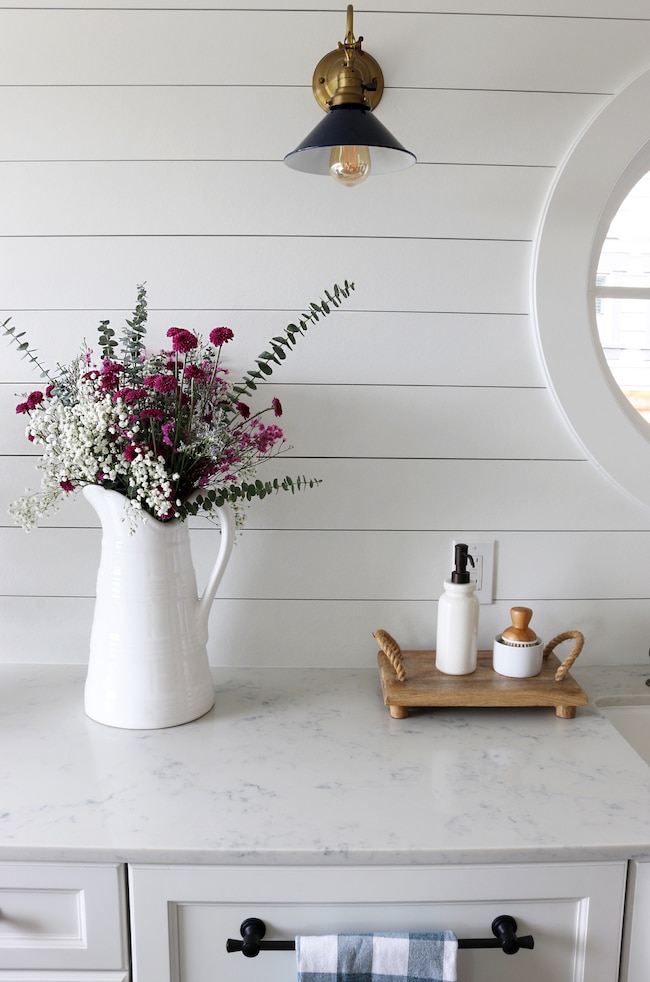 Health is worth fighting for. Toxins should be tossed to the curb. I'm thankful every day that I feel good. I have a strong immune system. I'm grateful that I'm able to do the things I want to do. It hasn't always been that way, as there were many seasons when I couldn't do what I wanted to do. There were many years when I didn't feel well but didn't know why or how to fix it.
Good health isn't something any of us should take for granted. It's never guaranteed. Bodies break down and fail us sometimes. Sometimes all we can do is do the best we can. No matter how health conscious we are, there is always the possibility that we will face conditions that are out of our control.
But no matter what, detoxing our home and daily habits can't help but improve our chances at health, happiness and well-being! We don't need those nasty toxins.
Even though I have "a condition" I've always been moderately "into health" … meaning, I preferred and sought out natural remedies when I was aware of them. I've never smoked, never did drugs, never indulged in alcohol, tried to be mindful of what I ate, etc.
We all have a list of things we think aren't super healthy for us. We may or may not do those things! Even though I didn't do "certain unhealthy things" what I didn't know back then was how some of the every day decisions I was making would impact my health.
I didn't know how damaging something as seemingly innocent as every day household and personal care products could be to my body. I didn't know that many of the products or ingredients that are considered "healthier" or that are labeled "natural" or "organic" aren't necessarily good for you.
I've learned to do research and be more cautious in what I bring into my home.
I've learned that certain foods (even food that was generally thought of as good for you!) could negatively impact my health. I've learned that hidden toxins or ingredients could produce unexpected or seemingly unrelated symptoms, like when my son was a baby and had severe emotional reactions to casein (milk) found in every day health foods, like whole grain bread or in dyes found even in supposedly toddler-friendly foods like packaged fruit snacks.
Our home and body are connected in so many ways. The decisions we make in one impact the other. I wrote a book called Dwelling in which I share my own health journey and tips for caring for both of our dwellings, home + body. I love to share things I have learned. I am not a doctor, but I discovered the results of toxins on my body because I saw and felt the impact of them. These are lessons I had to learn by trial and error, observing symptoms and by putting puzzle pieces together. These are things I was taught through visits to several doctors and from studying the root causes of various conditions.
My health situation may not be just like yours, but I'm a big believer in sharing our stories because when we do, we all can do better. This is why I'm so passionate about helping others create healthy homes. We need to share our stories. Y'all know I love home decor, but taking care of ourselves and our home is about so much more than the colors we choose or the way the furniture is arranged.

We need to hold the "know better, do better" philosophy when it comes to our health. I don't waste time beating myself up for what is in the past, or not knowing everything I wish I had known, or trying to be perfect. There's no sense in adding more anxiety in life. Take healthy steps forward. That will make the biggest difference in the years to come.
We need to become our own health advocate. No one else will be as informed or as in tune with your body, your health or the health of your family as you will. I've learned that lesson over and over again. We have to be aware of the decisions we make and just do the best we can with what we know to do.
My Thyroid Update
We need to be proactively caring of ourselves, even when we think we are feeling great! As I mentioned, over the last year or two I felt better than ever, but this fall I let myself slip into the mindset of "I'm feeling great so I can put some self-care needs on the back burner for a bit." I know that is always a mistake.
To make a long story short 🙂 I was feeling fine so I didn't go in for the routine blood work for my thyroid. My naturopathic doctor went on maternity leave so I let myself get off track in my treatment plan. I stopped taking my natural thyroid supplement for a few weeks because I ran out. I couldn't get in for an appointment as my doctor was still on leave, but I didn't want to take the time to go to another practitioner. All of that resulted in my thyroid levels going haywire. For those of you familiar with thyroid levels, my TSH was over 200 and my other levels were equally off.
Healthy habits definitely add up.
One decision really can be like a domino, creating conditions for better health or creating all kinds of havoc in your body. I'm still recovering from that brief lapse in self-care, but I'm definitely on the mend and my levels are getting better every day. The short season of random symptoms I felt are mostly gone.
Gratefully, I feel quite good now in spite of my thyroid levels and my recent lapse in self-care. I attribute how I feel today to the many healthy decisions I've made over the past few years. But I won't take health for granted. I'm back on track with regular blood work to ensure my treatment and wellness protocols are effective. I am regularly detoxing my home, body and daily routines by choosing to only use quality non-toxic products and being more mindful about what I put in my body. I'm going in for food sensitivity testing soon to make sure the food I eat is supporting my health. I've been gluten-free for a year and a half and I'm still "mostly dairy free" because I feel that my body and thyroid are happier that way. I'm taking my weekly detox baths, and continuing to take natural supplements and oils to support my general physical and emotional health, gut health, thyroid, as well as my immune boosting protocols.
The daily choices for how live in our home matter. I haven't been sick in over four and a half years, so I know I'm getting stronger and healthier. Toxins are not welcome in our home. We take wellness very seriously because it matters. I'm grateful every day that I no longer experience the horrible anxiety, the panic attacks, or other debilitating symptoms I used to live with daily.
I've learned these self and home care lessons so many times! We have to give ourselves grace to learn and grow and do better every day!
What's your health story? Share it in the comments or send me a personal message (on Instagram @theinspiredroom or [email protected]). I would love to hear from you and am always happy to answer any questions.
This post is part 2 of my 3 part series, Daily Self-Care Rituals for the Homebody. Read the intro here, and Part 1: Create a Spa Bathroom Atmosphere + Detox Bath Recipe, here.
Read and learn more about a healthy home, body and soul in my book Dwelling.
WHERE I GET SUPPLEMENTS AND NON-TOXIC HOUSEHOLD + PERSONAL CARE PRODUCTS: I get my non-toxic household and wellness products through the wholesale membership club I recommend here.
Join my wellness community and learn about detoxifying your home and body. Hang out with me and others who are also learning to BE WELL!
---

This post is part 2 of my 3 part series, Daily Self-Care Rituals for the Homebody. Read the intro here, and Part 1: Create a Spa Bathroom Atmosphere + Detox Bath Recipe, here.