Life Lately + My Favorite Pottery Barn Decor Pieces + SaleMelissa @ The Inspired Roomon April 27, 2020 at 10:57 pm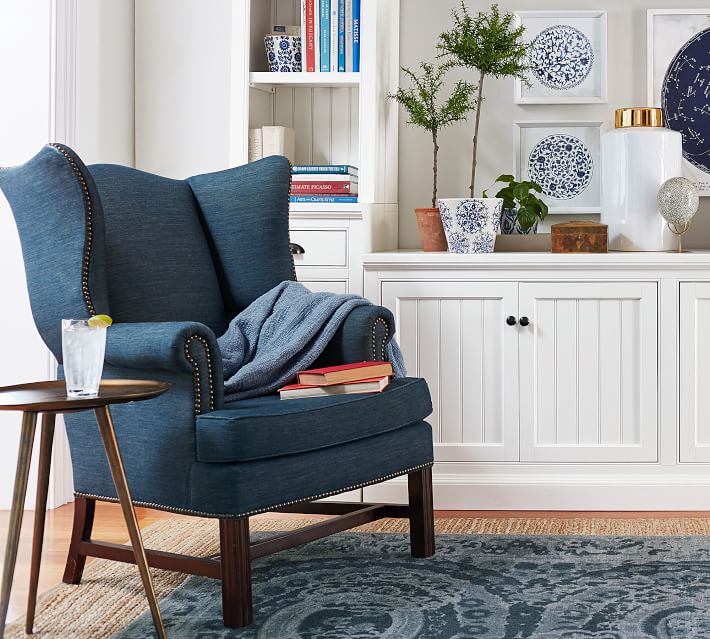 Hey friends! Ever since the start of the year I've been rearranging furniture. Anyone else? Ha! I was just talking about bringing a piece of furniture to my dining room the other day. (I will share more views of that room as soon as I can snap photos). The urge to spruce up the house is not only because I'm home all the time now (although being home and staring at the same things all day long definitely gets you thinking about ways to enhance your space!), but it's also because we have different needs for how we use our home this year.
Perhaps you will relate. First we were making room for Courtney (my daughter) to move into our lower level. She's lived on her own for years but decided to move back in to save up some money for other goals. We thought we had it all figured out for all of us space-wise (you know how one change impacts all of the other areas of the home, especially if you don't have a huge house?) so we were feeling like we were making progress.
But then, my son had to leave his dorm because of the quarantine. So he moved back into his room bringing with him all of the stuff we had just bought for him and moved with him into the dorm a few short months ago. 🙂 And of course, we had already moved a bunch of things INTO his bedroom and our guest room to make more room downstairs.
Empty nesters, downsizing, simplifying no more. LOL! Well, we're still trying to simplify but if you've ever had to ALSO deal with the belongings of other people moving in and out and keeping up on life and earning a living all at the same time, simplifying is a process, you know? It takes time.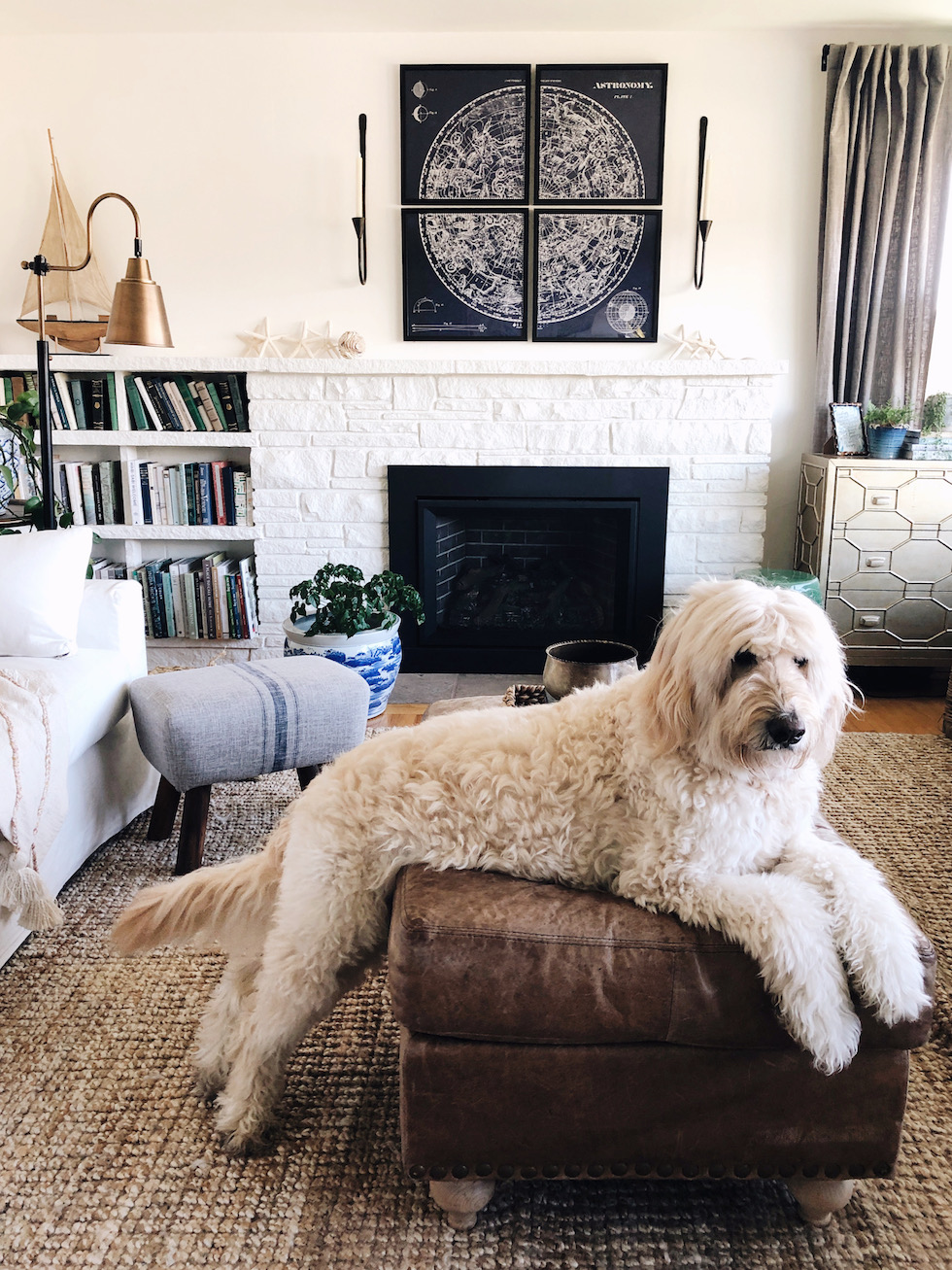 Anyway, if you ever wondered why there was a slow down in momentum on showing Court's space and our new office area or the rest of our house….it's because not everything ends up as "simple" as we thought it would be. Even rearranging your furniture can be a challenge, unless you happen to have a big barn in your backyard to store all the extra furniture while you are deciding what to get rid of, what you need to get and where things can go LOLOLOL.
Fresh out of barns here, so we are shuffling things around within the house (which can be quite time consuming, comical and chaotic).
Anyway, the good news is we are quarantining together, and everyone is still happy and healthy so no complaints here. This extended time at home has also got me thinking about how to use what we have to make this new arrangement work. I love thinking about our home and what we need to add or do to make better use of our space, as well as having a little more time to organize! I love it. We are definitely making progress and it feels great.
Speaking of furniture and sprucing up the house, I stumbled upon a great decor sale going on today. I thought I'd share a few favorites that I have in my home as well as a few other things that are similar or caught my eye.
I'm not sure how much longer the sale will go on but it seems like there are ongoing deals right now. So if you are in need of some additional pieces and have the budget to invest, it's a good time to spruce up your home with some new things! Scroll to the bottom of this post for the round-up of all my favorites or click here to go straight to the sale!
I hope this post also gives you some new ideas and inspiration for how to use what you have.
I LOVE these hooks. They keep us organized and save space in our one cramped coat closet all year round. They are 25% off and free shipping, and come in another finish too. These other hooks are super cute as well, I'm considering grabbing the brass one for another hallway.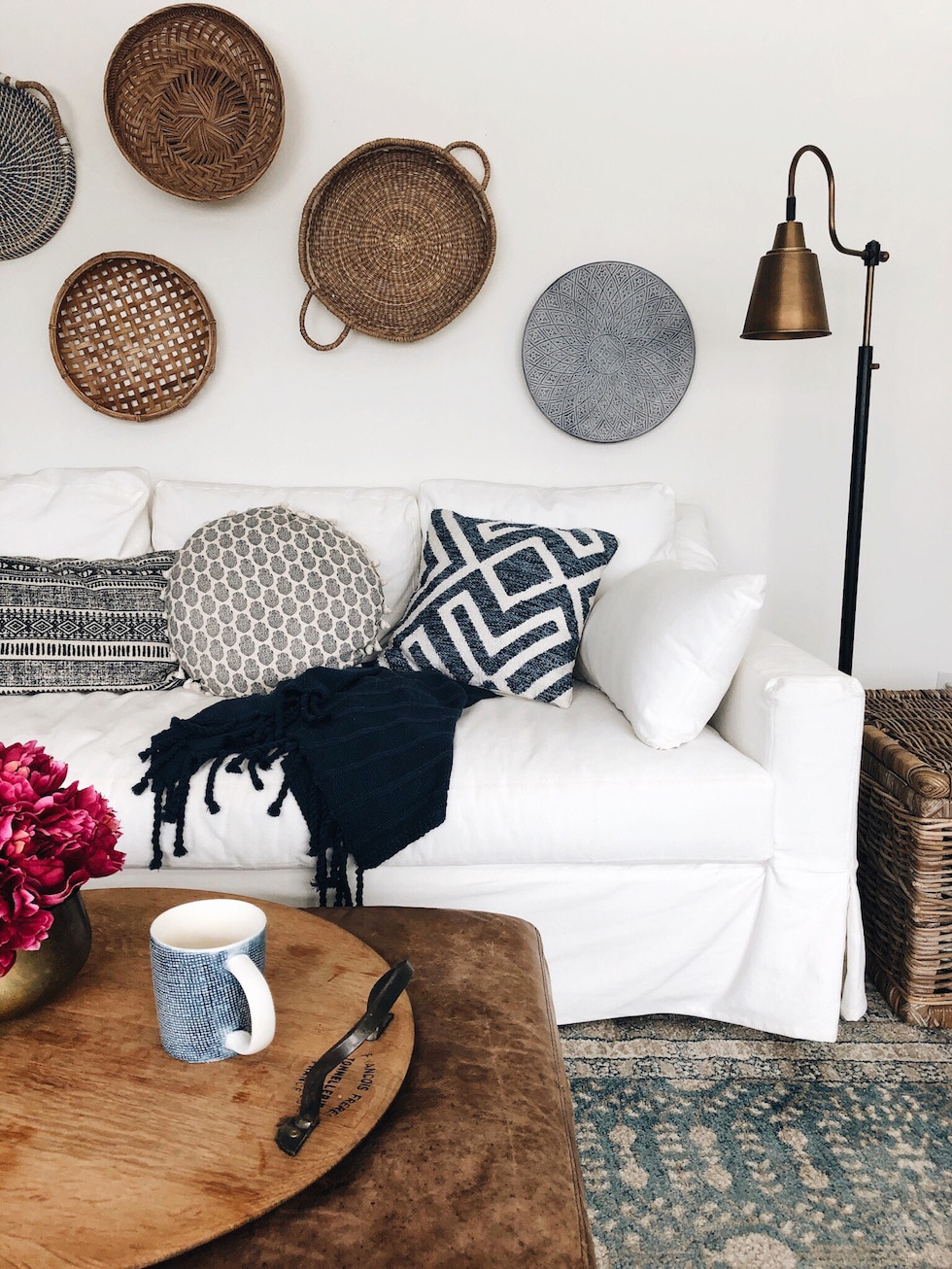 We are spending so much more time in our living room! I love my slipcovered sofa which is also on a huge sale. I have the bench seat, slope arm, deeper depth, and warm white denim. We have LOVED it for the past couple years. It's great quality, super durable and machine washable. You can customize it with many different fabric and color options, too.
The baskets above my sofa are a mix of secondhand finds, baskets I've had for years and some newer, but if you're looking for a pre-made set of wall baskets, here's an option (and they are on sale today!).
This Wood & Metal Tray is similar to mine above, and here's a similar brass floor lamp. We have had the tray for years and years, it's so helpful for serving or using as a display space on a coffee or end table table, too (I love it because you can easily move it as needed).
I also get asked often about our leather ottoman. We've had ours forever, but here are two similar ones on sale (one and two).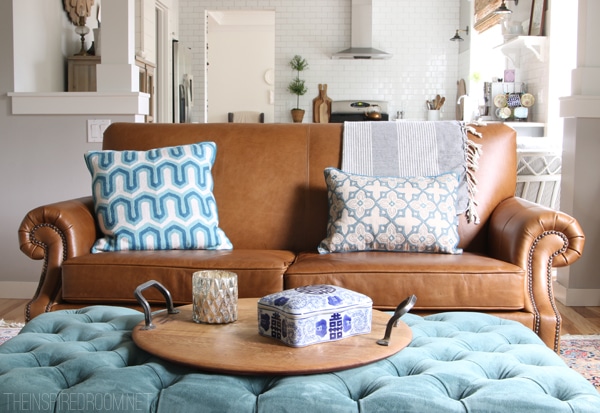 My leather sofa is one of my all-time favorites. We still have it, I can't imagine ever letting it go! It's only gotten better with age. There are so many leather furniture options on sale, I'm obsessed with them both for comfort and style. And leather has been the best for our dogs!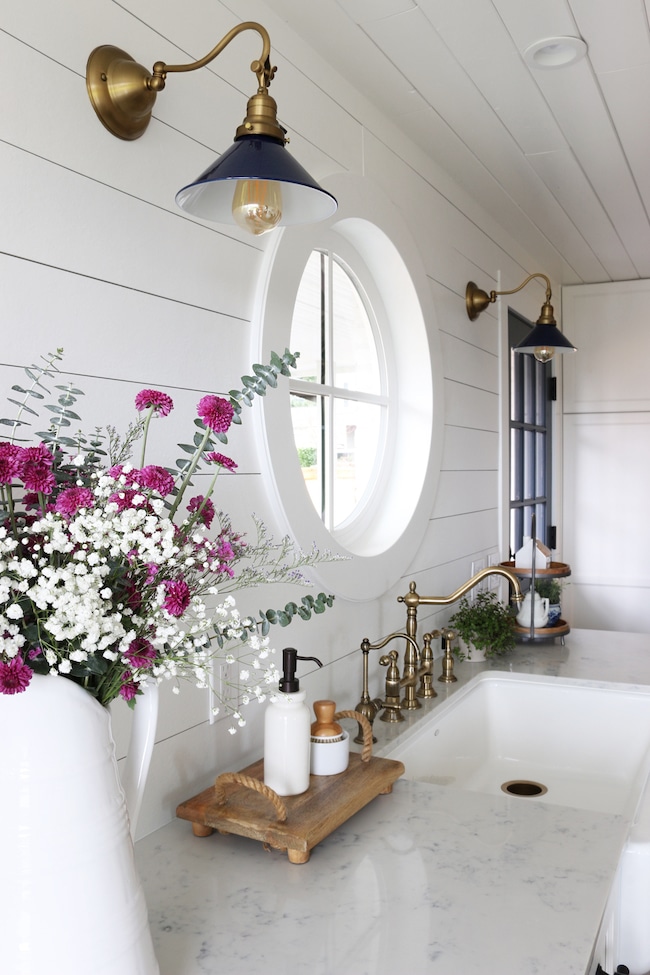 This footed wood stand is one of my most asked about decor pieces. I've tried with no success to find a link to the same one online, but here is a similar footed tray on sale today! I love using little stands like this because they keep your kitchen looking organized and they add some cozy textures to the room. We have one we use to hold our coffee grinder, too.
I've been on the hunt for some new blue and white pillows to freshen up the living room for spring, I'm loving these mudcloth ones and I love that they're reversible too!
If you are in need of a dresser, this one is SUPER cute! It's very similar to the one I have. I've used mine in the living room, guest room and now it's back in our bedroom. I think dressers are one of the most useful and practical pieces of decor because they can be moved to whatever room you need them. Dining rooms, living rooms, bedrooms…you truly can't go wrong with a good quality timeless dresser.
Are you doing as much rearranging in your home as we are in ours? Let me know we are not alone! 🙂
Here's a roundup below of more favorites (these are on sale, too!).