My New Outdoor Wall Lantern + Styling IdeasMelissa @ The Inspired Roomon May 27, 2020 at 10:00 am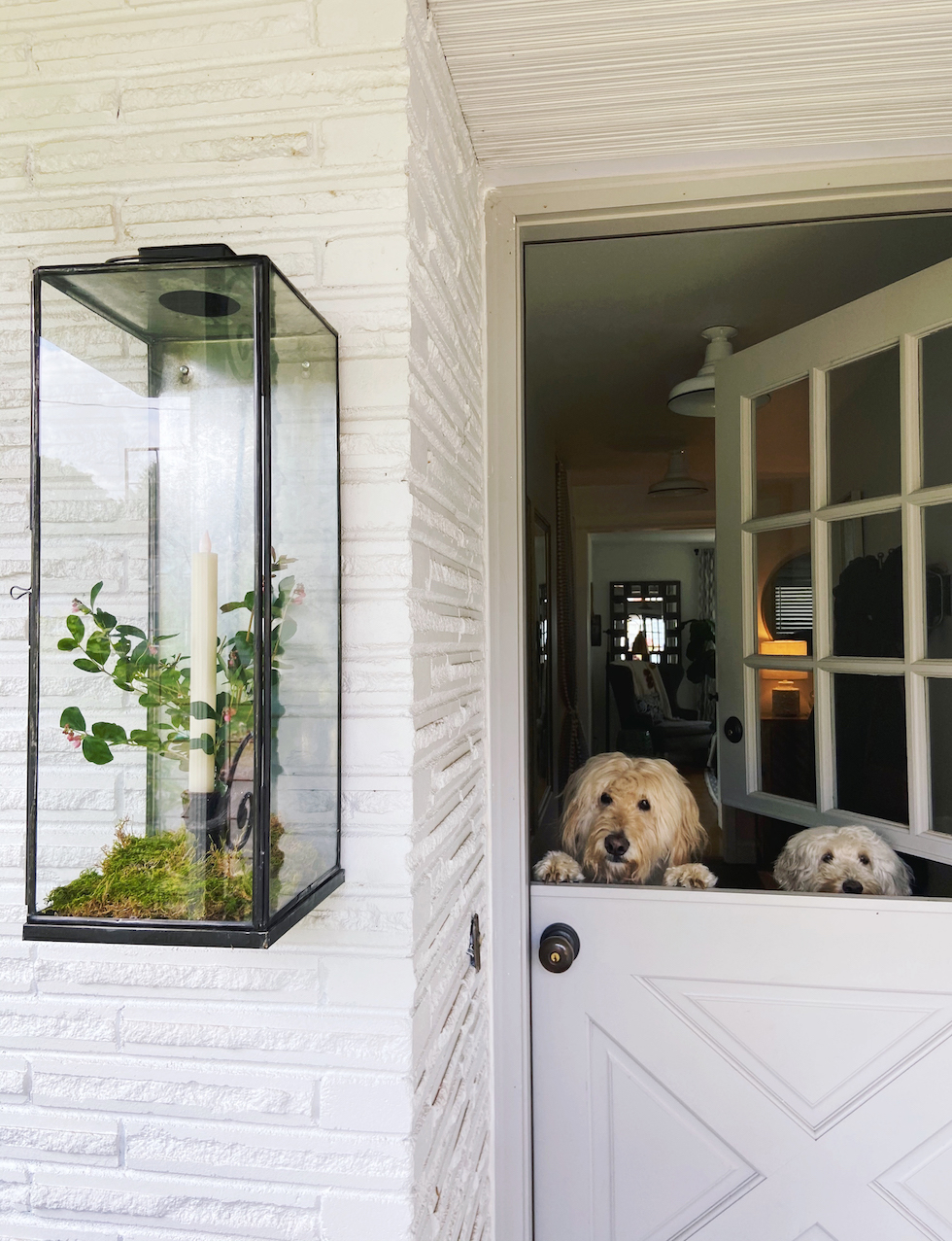 Who knew that having a little bunny holding a candle in a lantern by my front door could spark so much joy?!
Oh, well, let's be honest. I did. Simple joys are my favorite thing. Now more than ever, I think, I'm appreciating the little things I can do to amuse myself :).
I got our lantern sconce this winter but we finally took a moment to hang it up! You can get the exact lantern I have here, and the battery operated taper candle here.
It is all set up to hang easily, the holes on the back are pre-drilled! If we can do this ourselves as non-DIY'ers, any one can do it. We used our regular electric drill and this type of drill bit to drill the screws into our brick. Easy peasy!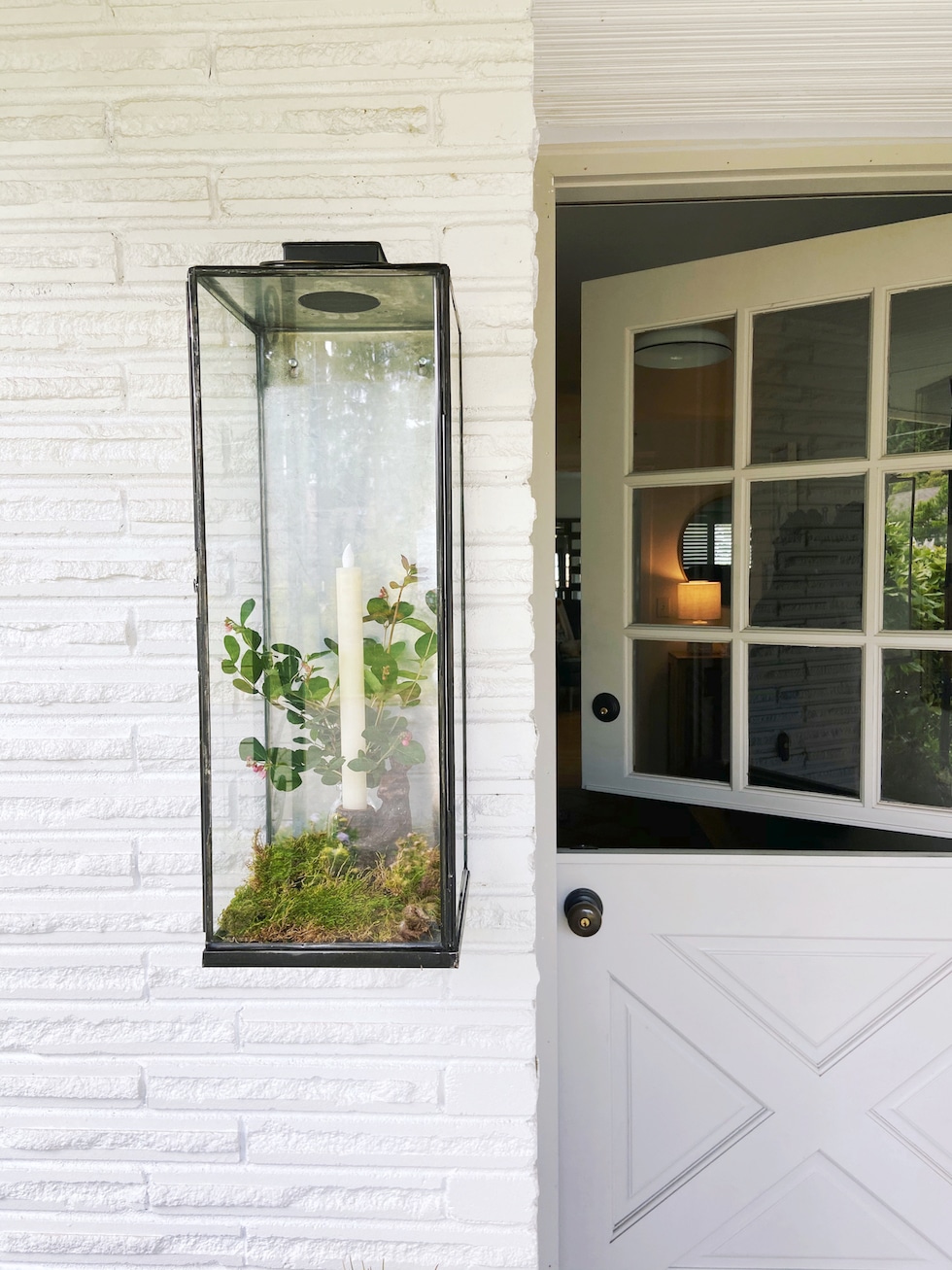 We have a ceiling fixture in our porch but I always wished we had a charming lantern near the door. In order to have one we'd have to have electricity run to that spot. While that's still an option for the future, when I saw this lantern I immediately thought about all the seasonal ways it could be decorated. We have such a tiny front porch there really isn't much room for seasonal things, so a wall-hung non-electric lantern made perfect sense for so many reasons.
The lantern is pretty large but it makes a great statement and gives you plenty of room to add any seasonal decor.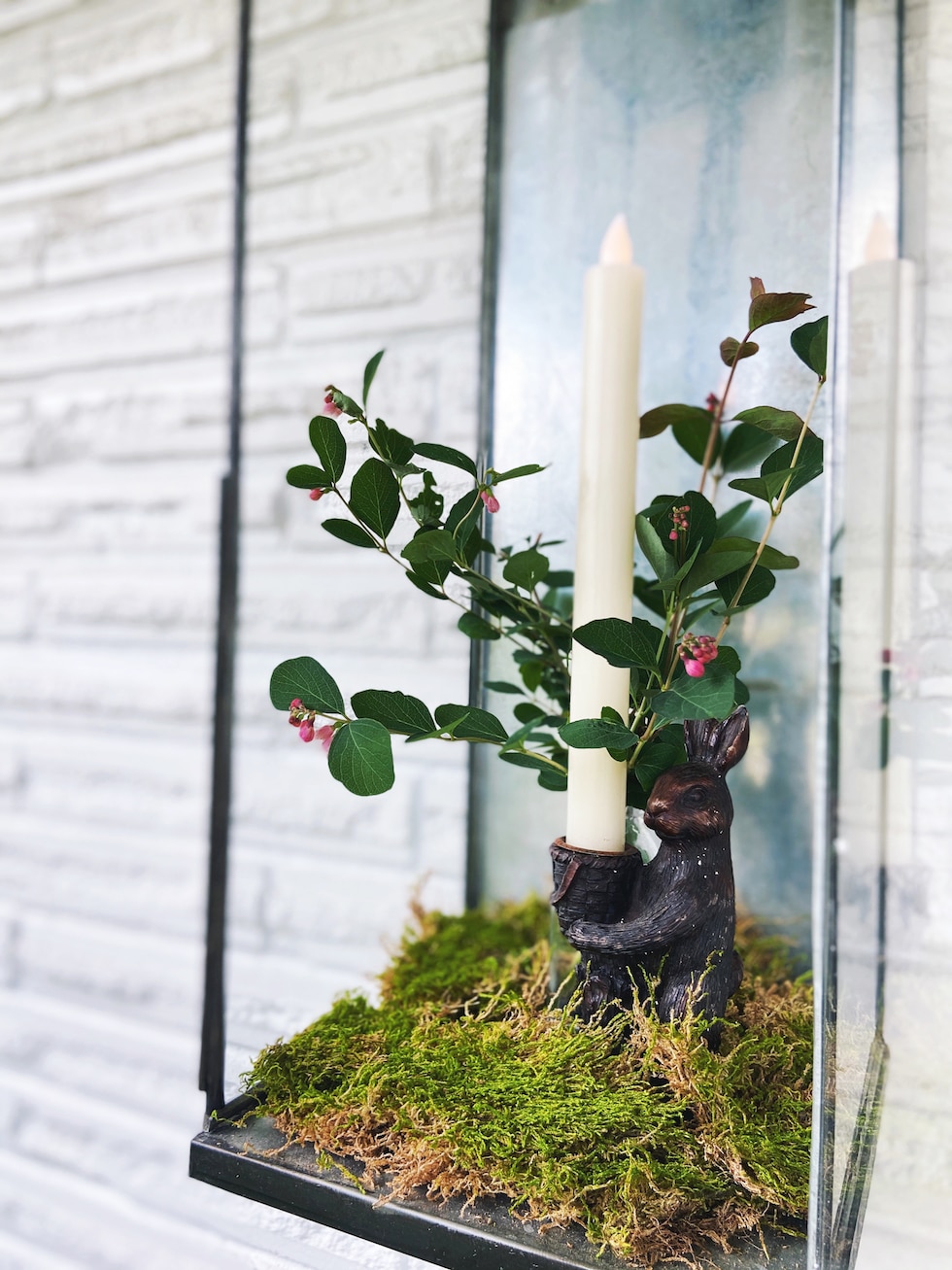 So once we got it hung up I just set a little bunny candle holder in it (one I've had for years) with a battery operated taper candle and some faux and real greenery for spring. It's so cute and welcoming. I just love it.
There are so many styling possibilities, I know I'll have fun coming up with new ideas for what to put in it all year round! It reminds me of the fun of fillable glass lamps I have (similar to these).
I'll share some ideas and inspiration for lanterns below, as well as sources to get a similar look!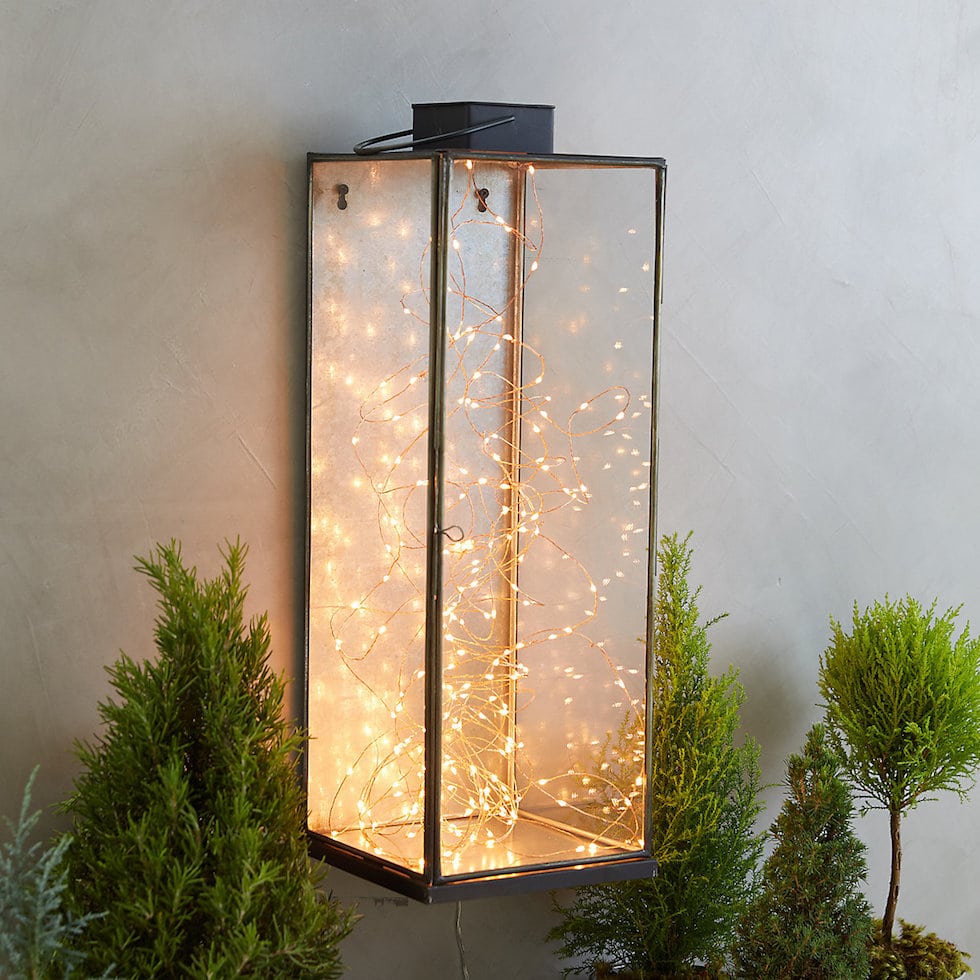 A few ideas for decorating lanterns:
copper string lights
battery operated pillar candles
mini pumpkins
a bouquet of flowers
pinecones
a little potted plant
shells
moss and greenery
battery operated taper candle in a candleholder
ornaments
Enjoy the inspiration in this post!
Get the exact lantern I got here.
If you get a lantern and style it, I'd LOVE LOVE LOVE to see it! Tag me on social @theinspiredroom and/or post it in The Inspired Room Community Facebook group (it's free!). I'd love to see your lanterns, ideas and inspiration all year round.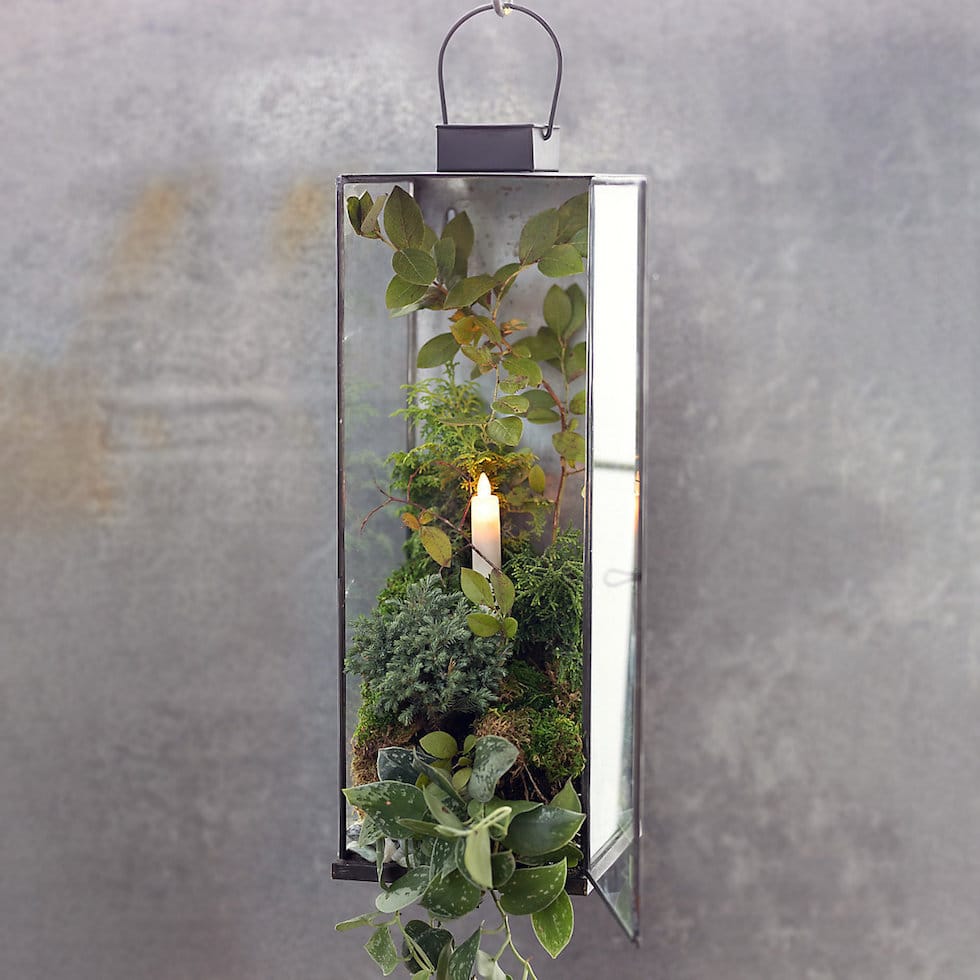 You can also hang the lantern on a hook like this or this! Mine has that same handle on the top, I just noticed you can't see it in my photos.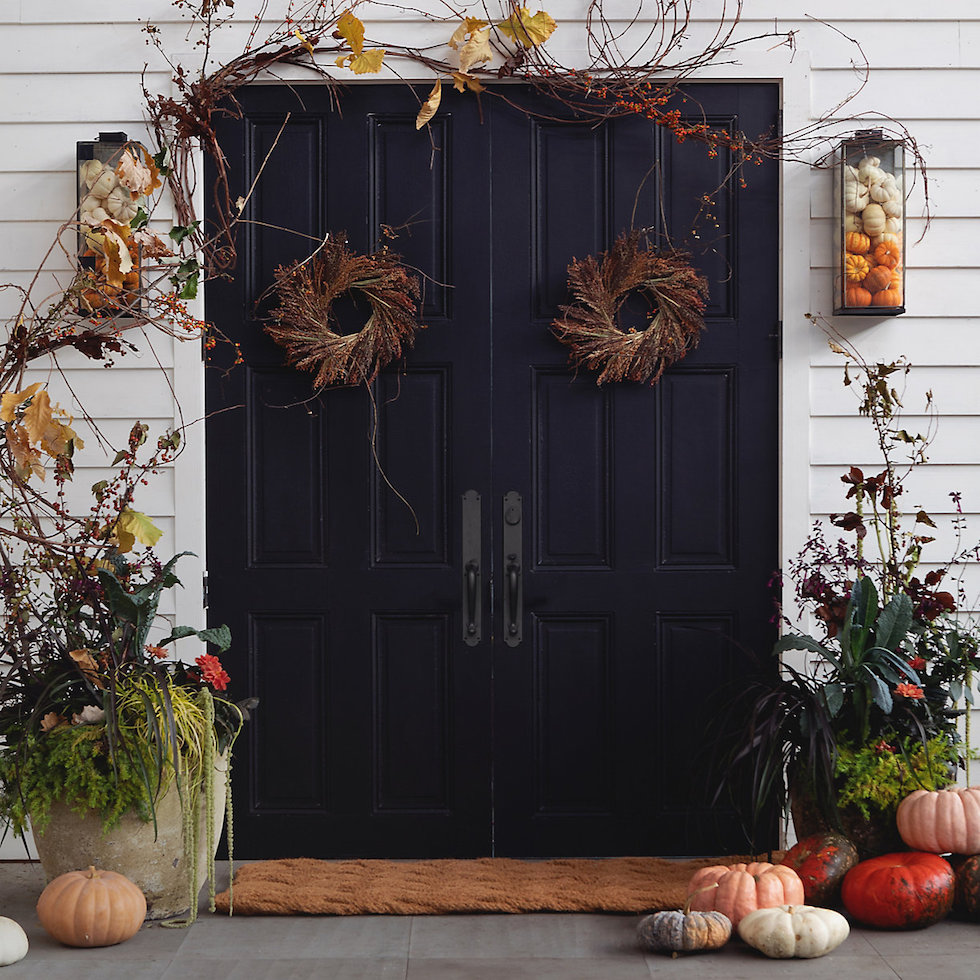 You know I'm going to fall-nestify my lantern.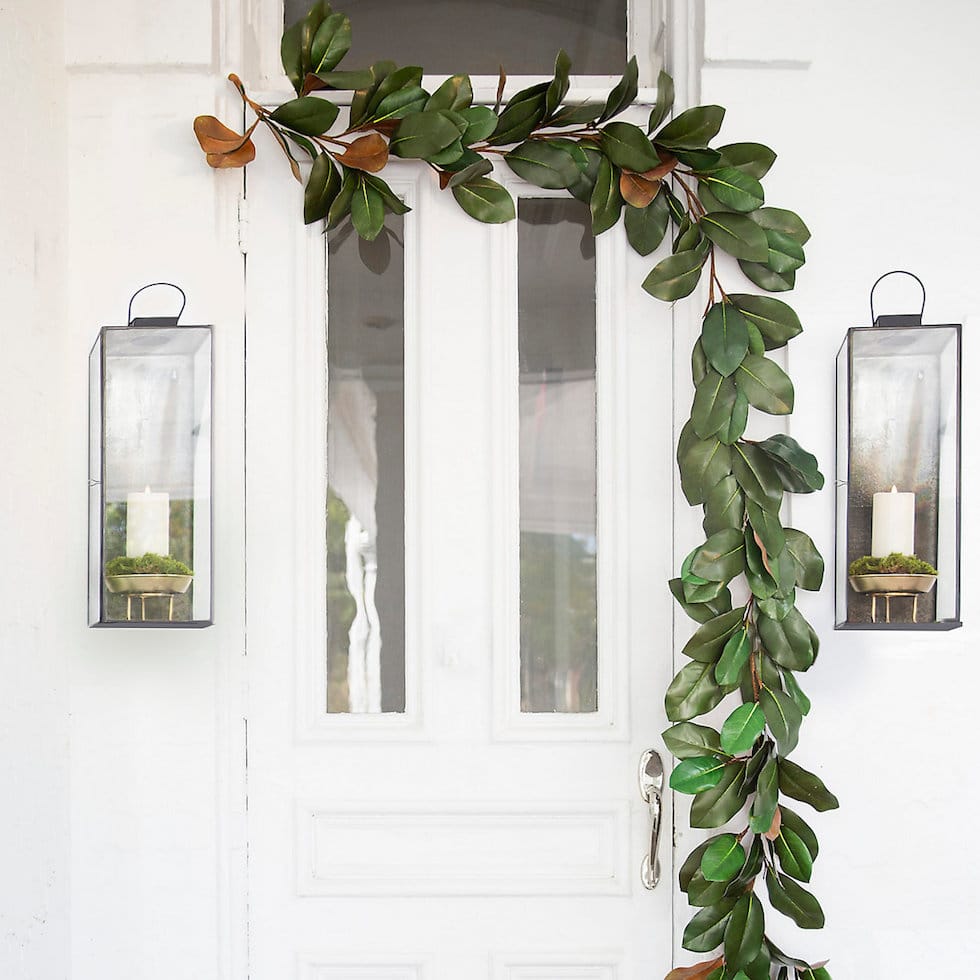 I am definitely going to do this look! I have the perfect little footed bowl. I love the look of two lanterns, but our little porch has no room for a second one!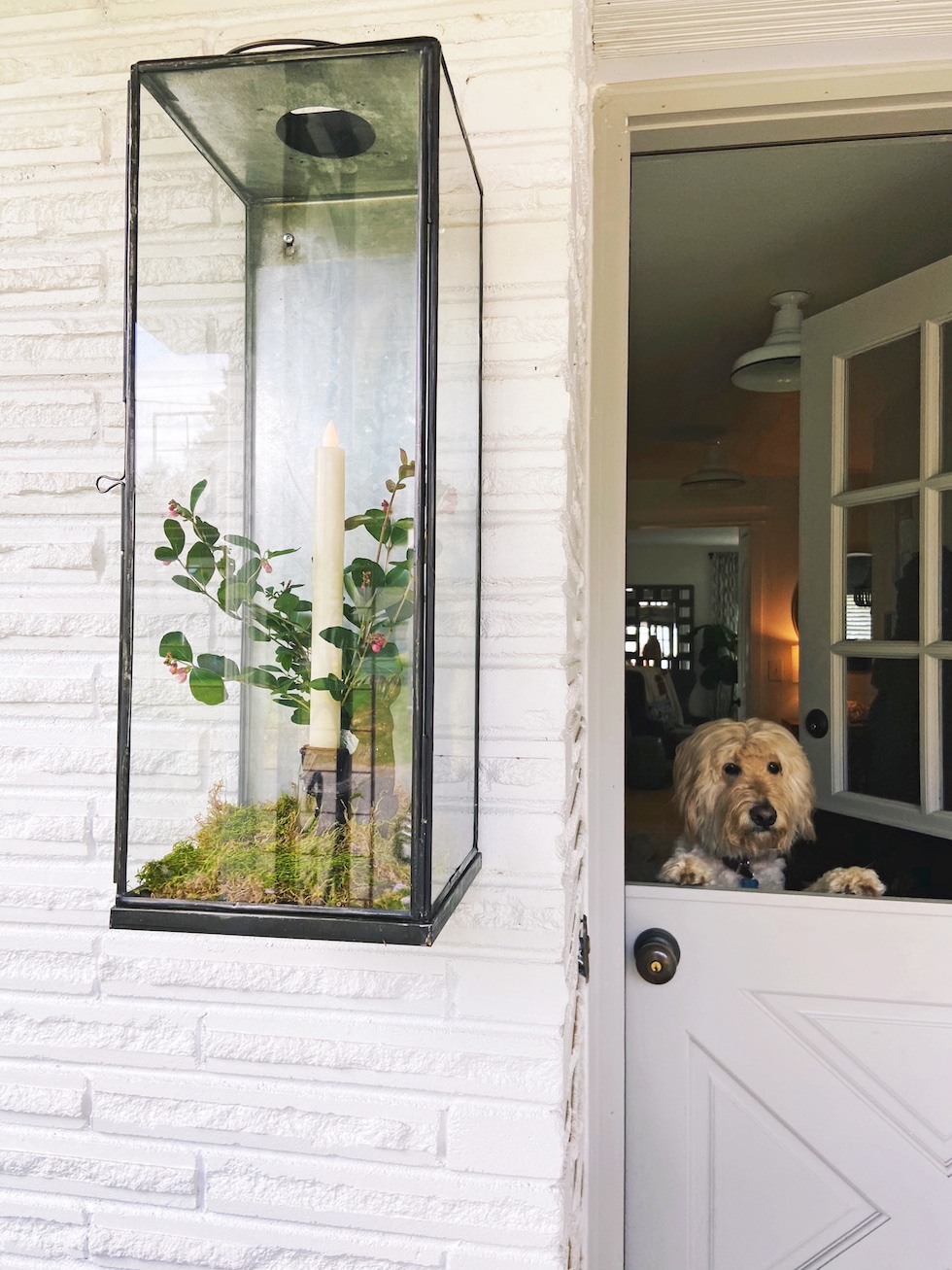 I'll share my lantern whenever I change it up again! And I'll try to get a nighttime shot, too. It feels so welcoming!
You can get the exact lantern I have here, and the battery operated taper candle here.

Click the thumbnails below to shop!
---
The Inspired Room on Instagram
Do you follow me on Instagram stories? Every day I've been sharing snippets of my life and home there (from my morning coffee routine, to what my family and I are working on at the house, peeks of my garden, my neighborhood walks, decorating tips, sources and more).
It's been especially fun to connect with so many of you there in this season where so many of us are at home. If you're not on Instagram, I also connect my Instagram stories to my Facebook page so you can watch there as well. I'd love to have you follow along!
FAQ and Sources
Click here for The Inspired Room FAQ (paint colors, remodel details etc)
Click here to shop my house, latest decor finds, my books and more!