New Glass Lamp + Coastal Cottage Living RoomMelissa @ The Inspired Roomon June 11, 2020 at 10:00 am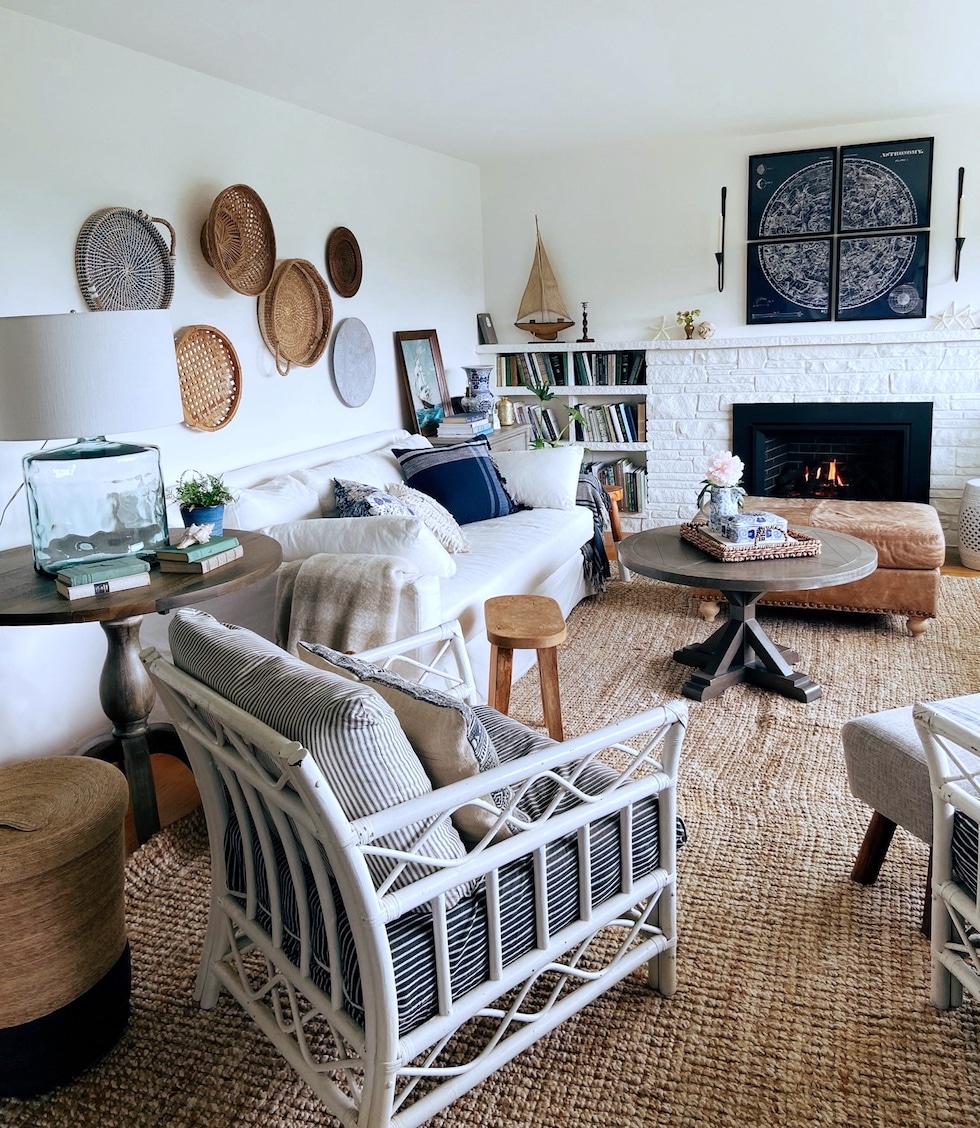 Can you believe we are nearing the first day of summer? It's time for our summer house :). A few weeks ago we got a pretty new seaglass-colored lamp for the living room! It was a gift to myself haha. It reminds me a little bit of the DIY lamp I made years ago. Anyone remember my bottle lamp project? I was so proud of that lamp! 🙂 I still have it, but the lamp part fell apart in the move so it's just a bottle now.
But I think this new lamp is extra pretty, I'm absolutely obsessed with the color! I love the coastal feel of it.
Even though winter is definitely over, we are still loving our fireplace! Last fall we put in our fireplace insert and it is still one of our favorite home improvements to date. It's kept us feeling so snug throughout the winter and quarantine weeks and continues to draw us into this space on cooler days. It doesn't get hot here very often so we will likely get to use our fireplace almost year round (other than probably in July and August, we'll see what the weather is then!)
With summer decorating in mind, though, we swapped out a few simple things like our curtains in this room for something a bit lighter but still cozy (we've had these for years and I haven't been able to find them online since, unfortunately).
This year hasn't been filled with the type of house projects I had planned for this year. I had been hoping we could add some more character with simple millwork and built-ins, possibly refinish our floors, maybe tackle bathroom makeovers or a few other possibilities. With all of the uncertainty in the world over the past few months it seemed to be prudent to put certain projects on hold for a bit, for a number of reasons.
I had declared this to be my "year of dwelling well" weeks before I had even heard of COVID19, so it's been an unexpected yet extraordinary year to practice that very thing. Since we've been staying home over the past twelve weeks and welcomed two of our three kids back home this year, life has definitely offered us a plenty of unexpected twists and turns. Yet there have been plenty of opportunities to treasure what we have and to focus on what matters most.
Even though we decided to put some more significant projects on hold earlier this year, we still have had fun making smaller improvements around our home. I love the simple things anyway. I'm happy as a clam with those kinds of small home improvements! I'm a putterer at heart, I've written dozens of posts over the years about the simple pleasures of puttering!
As I've mentioned in other posts, we have been reorganizing spaces to make more room in our "no longer empty" nest, rearranging some furniture, hanging art on the walls (I have even more to show you soon), hung a new candle lantern by the front door, and of course spending time in the yard enjoying our spring flowers.
We have been little by little getting my daughter Courtney settled in our lower level and we've been very slowly setting up a more organized office space. We went in a different direction with the space than we had originally planned and had to go at a much slower pace due to so many other priorities, but it's still coming together and we'll have an update post on the blog soon.
Have you made any adjustments to your home improvement plans this year? Hope you are well, friend.
---
White slipcovered sofa (20% off right now!)
Neutral stripe faux mohair throw on sofa
Round drop leaf table (by sofa)
Looking for other decor sources?
Click HERE to shop my house and other latest decor finds!