Rearranging Furniture + Hanging Plates in My Dining Roomon April 22, 2020 at 10:00 am
You know when you should really be setting the table for dinner but suddenly you think about what it would look like to rearrange the furniture in your house? Same. That happened the other day. I've hung many plate walls over the years…and it's usually on a whim when inspiration strikes.
We've been doing lots of house shuffling lately. I feel like we are always doing some level of house shuffling around here! But since Courtney moved into our lower level and my son Luke is unexpectedly home now from college due to the current events, we are slowly but surely figuring out what furniture pieces go where. And what better time to rearrange the house and cozy things up than during this "stay home season"?
So the other night I got inspired to move this wood shutter cabinet from the living room to in the dining room. We keep table linens and wine glasses in it, so the dining room is the ideal location for it! I moved it over (just in time for dinner, ha!) and instantly loved it here.
I wasn't sure what to put on the wall above it, but I'd been wanting to hang a plate collection on a wall in this house for awhile so this was the perfect spot!!
I went back and forth about which plates to put up. White plates like I had in my old dining room? An eclectic mix? I have lots of fun patterned plates (some quirky ones from here), but ended up deciding to keep it simple with some of my favorite blue and white salad plates and shallow bowls from Bunny Williams / Ballard Designs. They're some of my favorite plates, so seeing them displayed on the wall every day will make me so happy. It's just the right touch of cottage for my style. And you can never go wrong with blue and white, if you ask me!
(I rounded up lots of pretty plates at the bottom of this post!)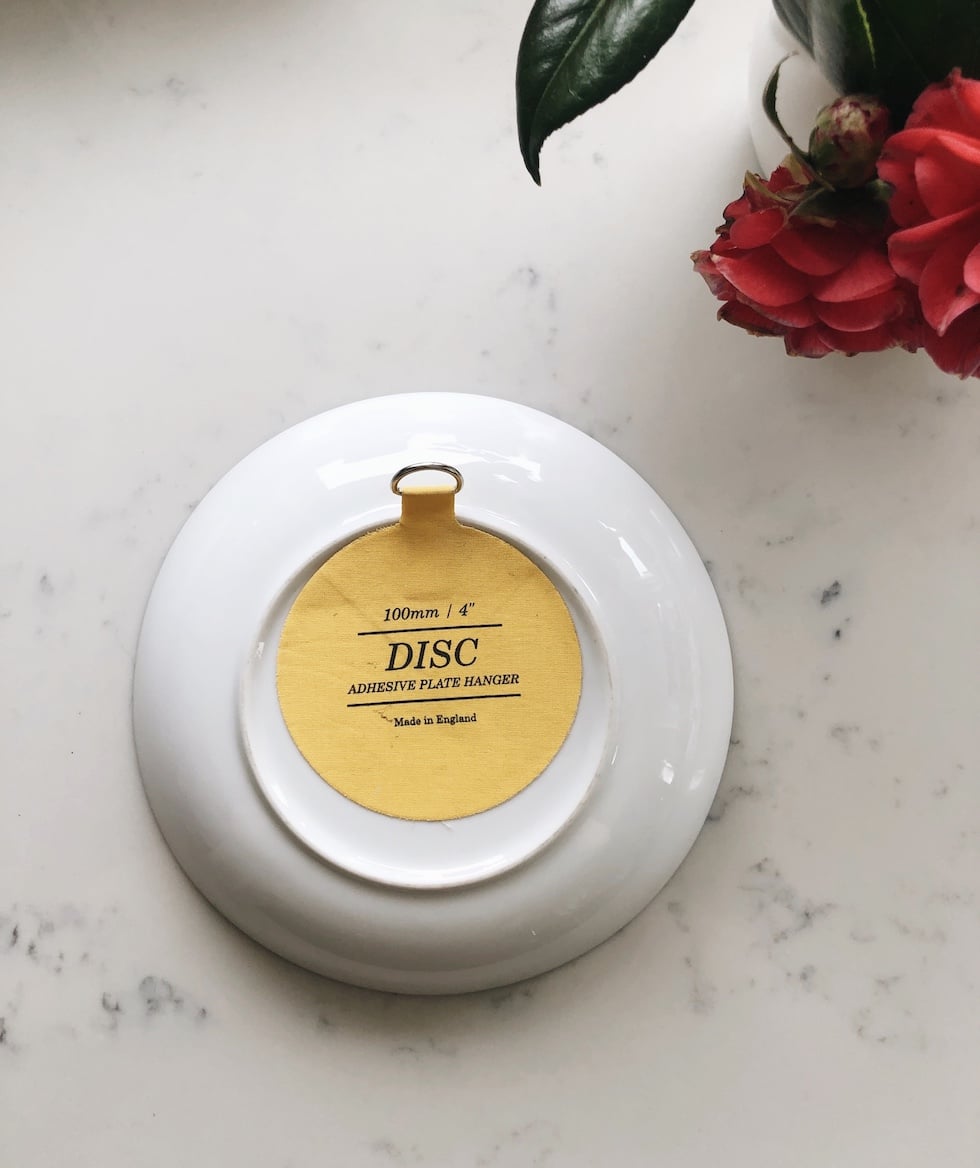 Here are the plate hangers we like to use. You just soak them in water to activate the glue, apply them and let them adhere overnight. We put them on the night before so they were ready to go the next day.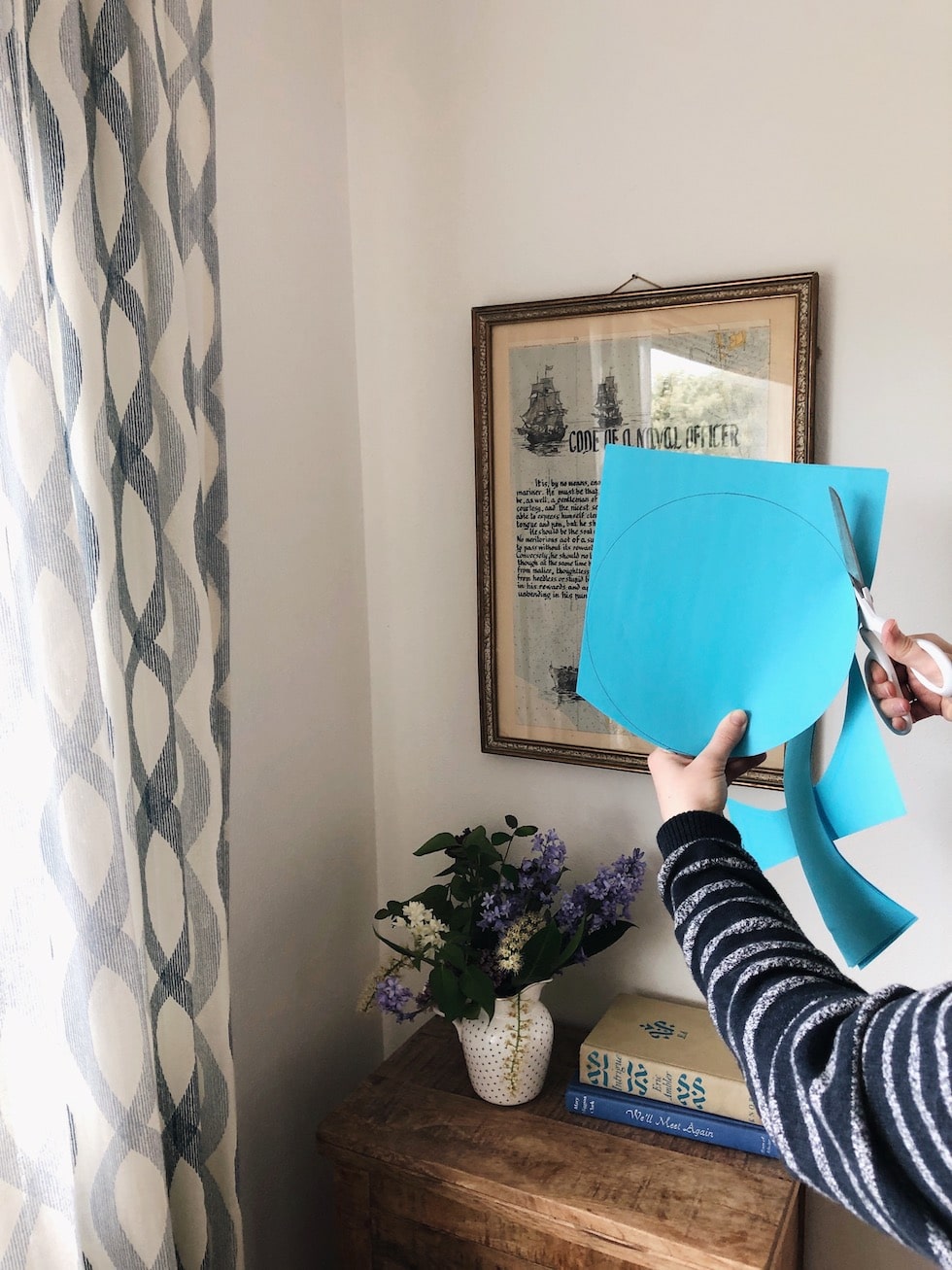 I enlisted Court to help me out. We often just wing it and start hammering nails into the wall (ha, are you more of a planner or a "see what happens" kind of art hanger?)…but this time we decided to be a little more systematic. We traced the plates and bowls onto paper, cut out the shapes and taped them up on the wall to visualize the arrangement we wanted.
We wanted them to 'swoop up' a bit and be a little imperfect. But not TOO imperfect, you know? 🙂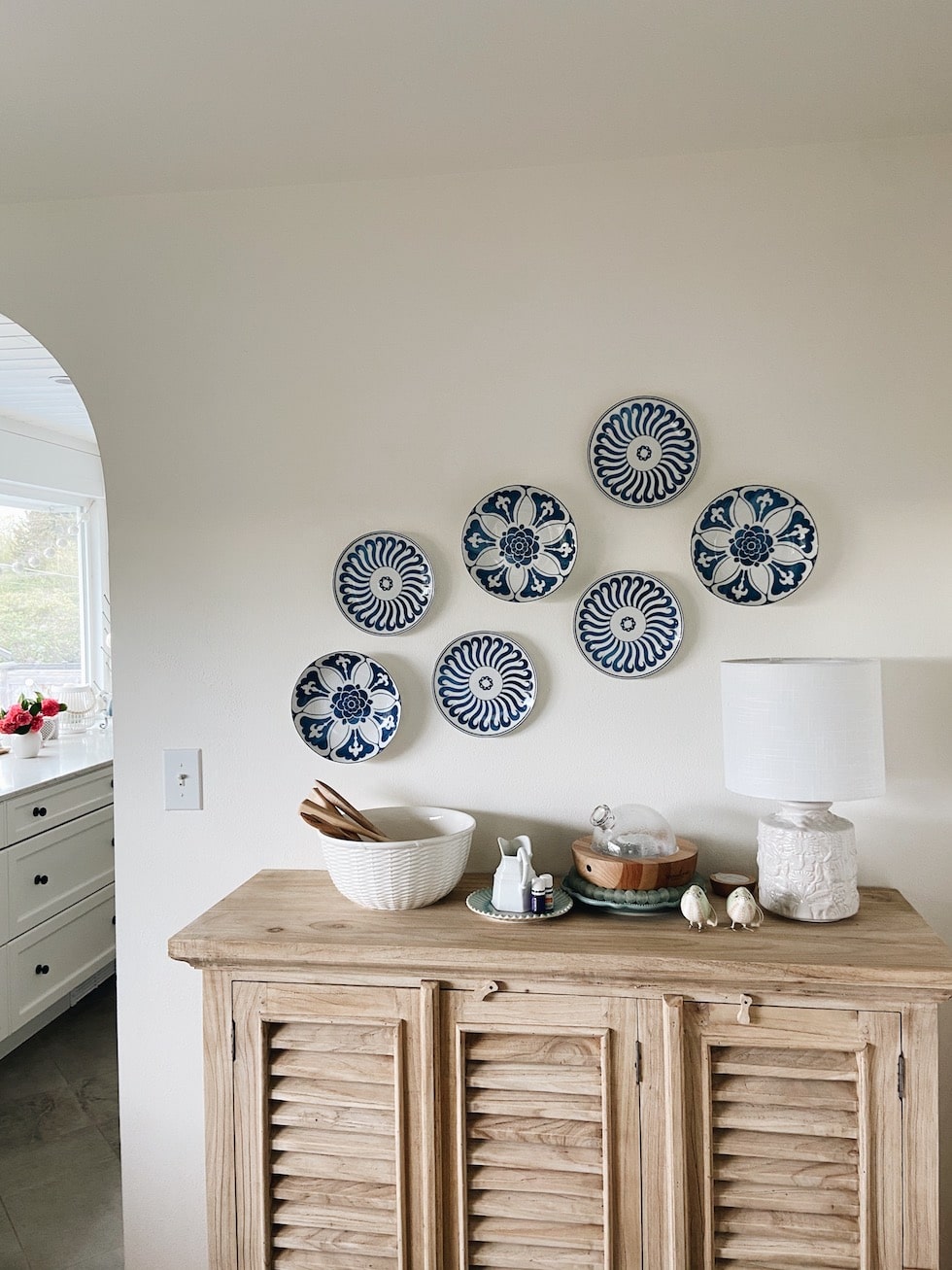 This was our finished product!
We LOVE how it turned out! I love it when a simple change just feels right. It transforms how you feel in your home. Rearranging this room and adding the plates is inspiring all sorts of new ideas for decorating the adjoining spaces of our house, too.
I can't wait to share more!
Have you ever hung a plate wall?
I'd love to see your plate walls if you have one, feel free to share a photo in our Facebook group!
PS…you can watch a video how-to of our previous plate hanging HERE!
Post Sources:
Wood Shutter Cabinet (see inside ours here!)
White Bowl: Home Goods
Pretty Plates:
Related Posts:
How to Decorate: The Slow Process to A Style You'll Love
How to Hang Plates, Platters, and Bowls on a Wall (Video)