Simple Bathroom Mood Board: Makeover in a Month!Melissa @ The Inspired Roomon August 6, 2020 at 10:00 am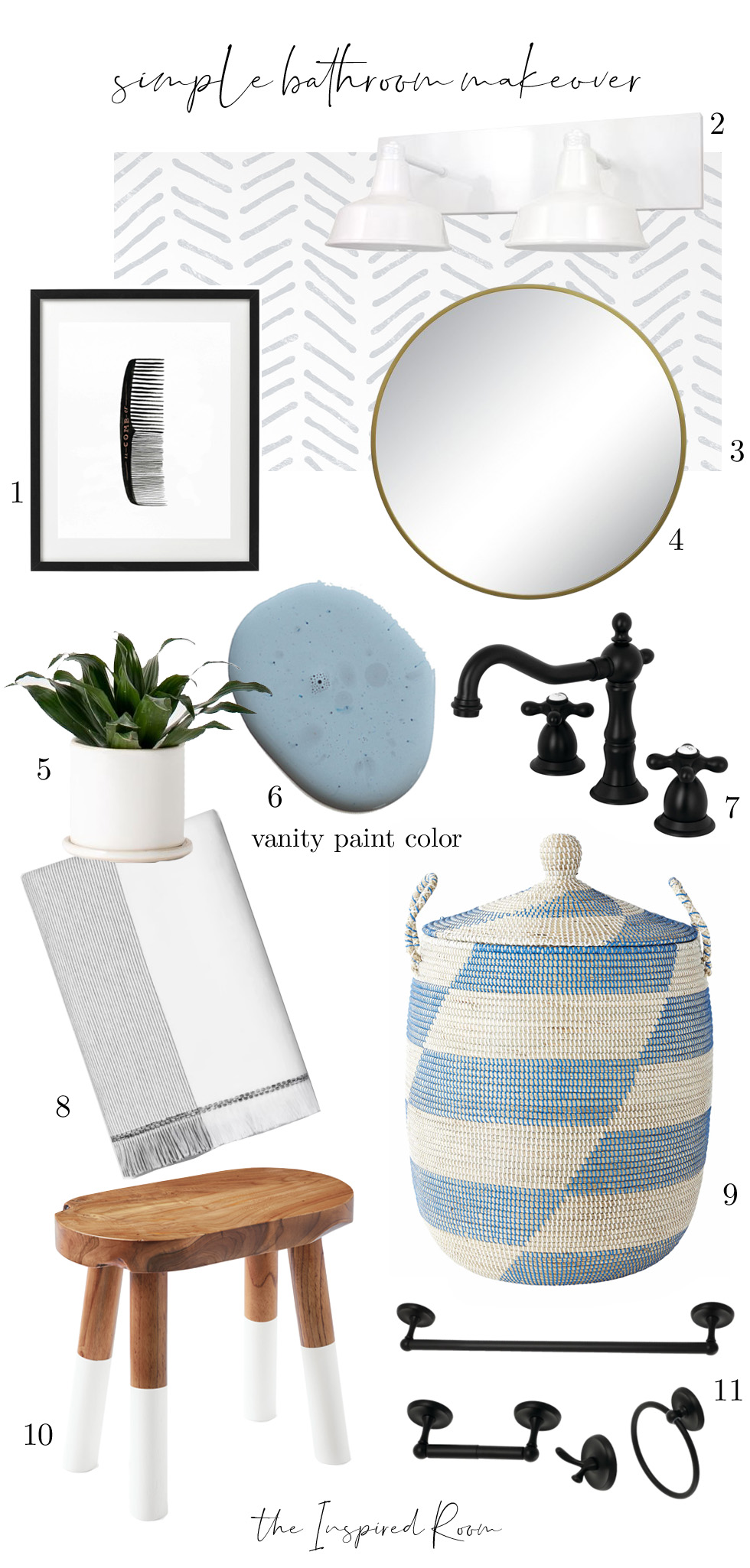 Need inspiration for a home makeover? Today three of my blogging buddies and I are kicking off a fun August series we're calling Makeover in a Month! Each Friday in August (and today!) we'll reveal a new project in our makeover. My makeover will take place in our basement bathroom.
What's my plan? I'm going to take this bathroom below from dated and drab to spunky cottage charm in the next three weeks, utilizing much of what is already existing in the room.
Here's what to expect! The others in our group may have started their makeovers already, so you'll get to see their first projects today. BLESS the organized overachievers in this world, I truly aspire to be like these amazing ladies. But because I am a rebel, always a little behind and forever marching to the beat of my own design schedule, LOL, my first bathroom project will actually begin in the next few days and you'll get to see it NEXT Friday!
I am sharing my "bathroom mood board" today so you can get an idea of where I'm headed with this project. This mood board is our general inspiration, but we may be inspired to change a few things on it as we go. I'm calling it a simple makeover because as I mentioned, it's not going to be a fancy tear out remodel. I'm going to focus on fairly simple upgrades most of us can tackle ourselves in a short period of time, without hiring out (or hiring very little help!).
Sometimes simple projects are the best. It's nice to feel like you can make progress quickly, even if you can't totally redo a room. We are adding adorable lighting, switching out faucets and painting our walls and existing vanity. There may even be a stenciling project involved just to give it a little more pizzazz. No promises how that will turn out, however. Hahaha :).
It would probably be fairly easy to switch out the vanity and add a new counter top, if one wanted an entirely new look. But we decided that is a project we can tackle in the future if or when we want to do more in this room. The floor and shower tile will stay as well, we can work with it and it's nice quality so it really doesn't *need* to be replaced. I'm excited to see how much we can improve this room without removing it all.
Goodness, on the one hand this seems like a simple project, but the more I think about it, I feel like we have a lot to do. So can we get this done? Find out next Friday how our first project turns out! I have never joined in the One Room Challenge type things because it's too much pressure, haha, but yet, here we are!
Each of the four participants will update everyone on their projects every Friday. Then in three weeks, you'll get to see all of the projects completed in the final posts! I'll be sharing how this bathroom is transformed from what it looks like right now to the reveal (scheduled for the last Friday of the August).
Are you ready to get inspired (and maybe tackle some projects in your own home this month)? Let's go!

SOURCE LINKS FOR THE BATHROOM MAKEOVER MOOD BOARD: