Simple Spring Centerpiece: Get Creativeon March 31, 2020 at 10:00 am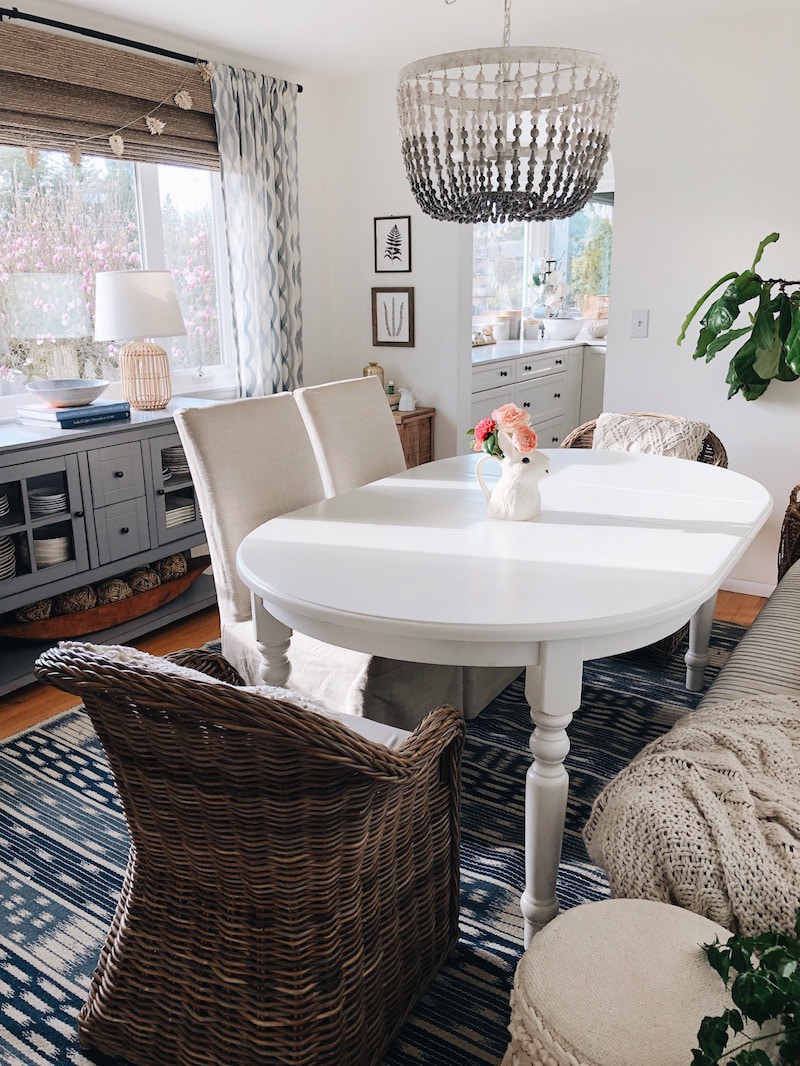 I think a little spring decorating would lift our spirits this week, don't you? I know spring feels different this year. I always keep seasonal decorating so simple, though. I find simplicity always works. A bouquet of grocery store tulips on the table is enough to make me happy. But this week I am not going to run to the grocery store just for a bouquet or potted plant. You probably aren't either. Maybe next time I order groceries, I'll see if they can toss in some tulips :). Or maybe a local florist still delivers? I don't even know. Nothing seems normal these days.
I know many of you are doing the 31 Day Love Your Home Challenge. We aren't quite to day ten yet, but when you get there you'll see the challenge "reclaim the dining room." It's one of my favorites. (Of course, you can always do day ten's challenge early if you feel motivated).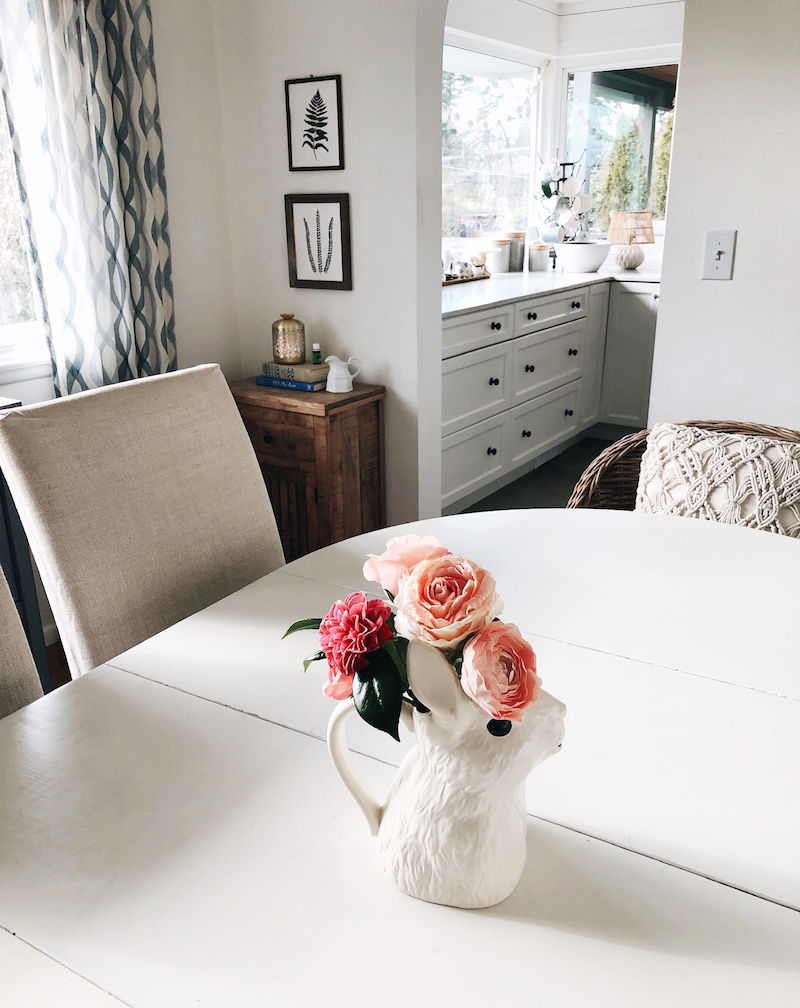 If your dining room is covered with papers, it's hard to feel happy or at peace there. Most of us are probably cooking and eating at home more than ever, right? It's important to make the dining room feel pretty so we want to sit there and enjoy meals together… or even by ourselves!
Clear the table, wipe it off, and then have some fun.
The sun has been out in Seattle for the past couple of days here, so I got inspired to do something 'spring like.' Foraging in my backyard to cut some flowers was just the plant therapy I needed.
Perhaps you have a garden. You might have some spring flowers or even some branches or ferns in your yard! It's fun to go look. I found some pretty blooming pink and white camellias in mine. But no matter what we have to work with right now, you can definitely find something pretty to make a centerpiece with.
This is a season to get creative. I have a whole post on that coming up! But for now, let's start digging around in our cabinets or head out to the yard to see what we can do with what we have.
Remember my bunny pitcher? Today I took a couple of minutes to fill her sweet self up with a mix of faux spring flowers and a fresh camellia bloom from my backyard. It makes me smile to see her pink flower hair. It's like an Easter bonnet. It's totally fine to use faux flowers, or a mix of faux and fresh in your centerpiece. I wanted tulips, but now's definitely not the time to get picky. Just enjoy what you have!
Of course, you don't have to have a bunny pitcher. In fact you don't even have to use a vase or a pitcher at all. Look for anything pretty. If you have my book Simple Gatherings, go grab it and take a look right now. You'll see you can make centerpieces out of anything you have around your home!
Grab some pretty colored books, a few tea cups, a tray, placements, a candlestick, a cake plate, a bunny statue, Easter eggs, whatever you have that looks spring-like. Have fun. Take some photos so you'll be ready to show off your table and centerpiece on day ten!
I can't wait to see what you come up with. Share a photo in The Inspired Room Facebook group or tag me @theinspiredroom on Instagram so I can see!
Simple Spring Centerpiece
Step One:
Pick a vase, any vase.
Whatever you have! I've gathered up some of my faves here. You can use a jar, a pitcher, or even a water glass!
Step Two:
Go outside and find anything you can to cut and bring inside!
Flowers, a branch, anything goes.
Bonus points: Take a few deep breaths of the fresh spring air outdoors before you go back inside.
Step Three:
Walk inside, set your foraged finds into the vase, and put it on your table. Step back and smile!
Ta-da! A happy spring centerpiece that didn't cost you a dime but brought a bit of joy to your day.
Look how pretty she is with her Easter bonnet!
Oh, Jack says hi, by the way. He desperately needs a haircut. Since we're avoiding going out of the house, it's going to be an at home haircut for him…and it's not going to be pretty. Lol! Wish us luck.
Happy spring, friend!
Shop My House and Latest Decor Finds
The Inspired Room Spring Decor Shop