The Best Gluten-Free Vegan Chocolate Chip CookiesMelissa @ The Inspired Roomon June 5, 2020 at 10:00 am
Gluten-free + vegan chocolate chunk cookies with walnuts
One of our indulgences during this quarantine has been baking cookies. I'm gluten-free and have found that many of my old stand-by treats don't quite taste the same. That's good in that we don't eat many treats, but sometimes you just want a little something really yummy, ya know?
Well, I've finally perfected a recipe for gluten-free chocolate chip cookies to the point where they don't even taste gluten free! Of course, if you aren't gluten free you can totally just use regular flour and they will be delicious.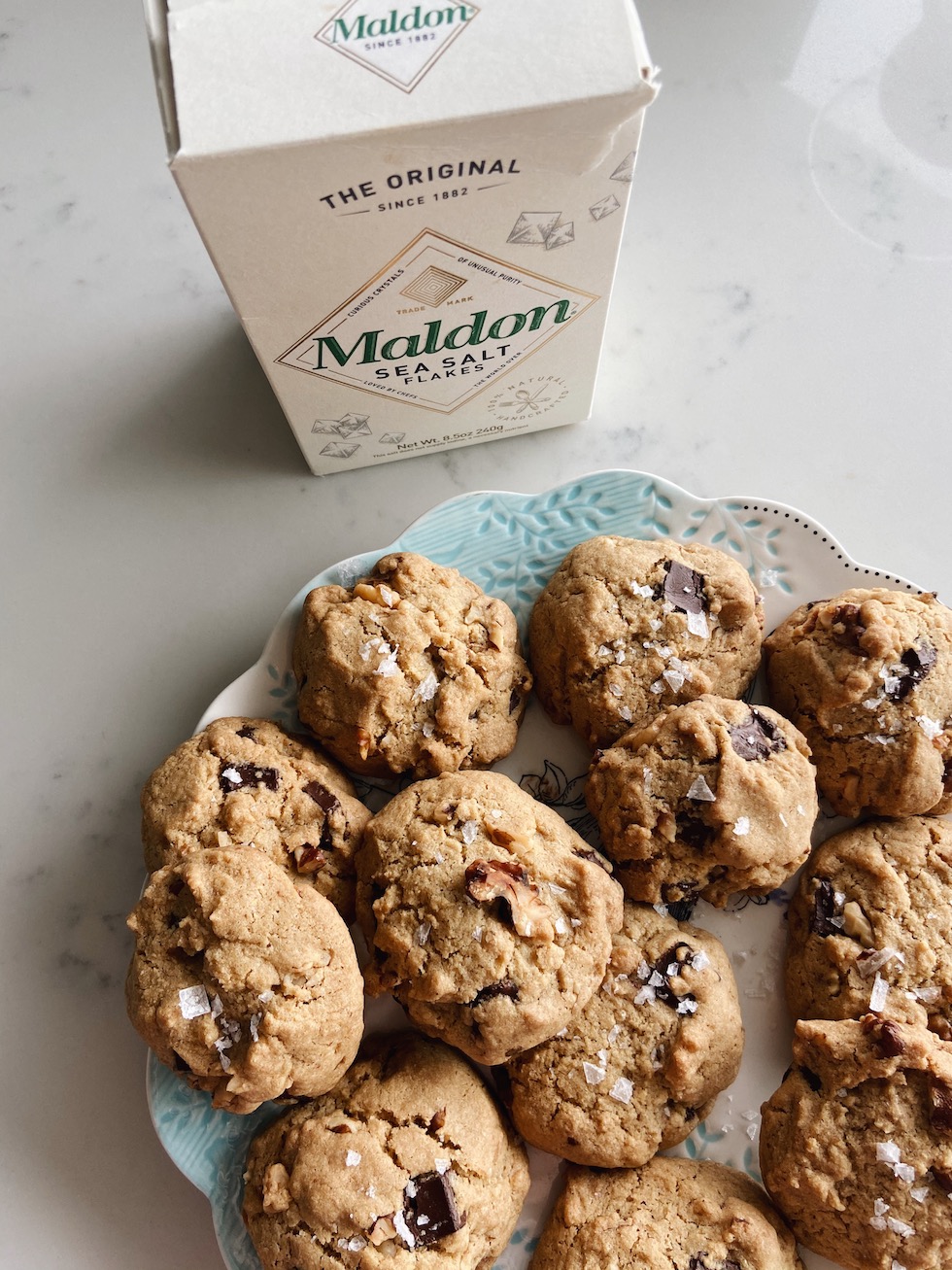 I originally got this recipe from my daughter Kylee. Her husband started baking them every week and they loved them! I knew I wanted to try to make our own version with gluten free flour and a few of our own twists like dark chocolate chunks, chopped walnuts and sea salt flakes sprinkled on top for a final gourmet finishing touch.
I'm happy to say they are DIVINE!
ORIGINAL RECIPE from Pick Up Limes
INGREDIENTS
1/2 cup refined coconut oil (refrigerate for 30 minutes or until firm if it has liquified)
 2/3 cup packed light brown sugar
3 T maple syrup
6 T plant-based milk (we use this one)
1 T pure vanilla extract 
1 tsp baking powder
3/4 tsp baking soda
1/2 tsp salt
2 cups Bob's Red Mill Gluten Free 1:1 flour
1 cup organic dark chocolate cacao chunks (use dairy free chips to make these vegan)
Chopped walnuts, if desired
Optional: Sea Salt Flakes for topping
DIRECTIONS
Preheat the oven to 350 F
Mix the coconut oil and brown sugar with a fork. Add maple syrup and mix until well combined. Combine the milk, vanilla, baking soda, baking powder and salt. 
You can firm the mixture in the fridge for 15 to 30 minutes (especially if it's a warm day!) so the cookies don't flatten or spread out too much when baking.
Add the flour to the bowl and stir until just-combined, gently fold in the chocolate chunks and walnuts (if desired). 
Form into small balls and place 2 inches apart on cookie sheet lined with baking paper.
Bake at 350 for 12-15 minutes until edges are golden and tops are set.
Top with sea salt flakes while still warm.
We made up a little gift box of cookies for a friend this week to brighten their day. A little kindness goes a long way!
Let me know if you make these, I think you'll love them as much as we do.
Enjoy and much love to you, friends!