Trends I Love: Dreaming of Windows + Doorson April 9, 2020 at 10:00 am
This post is in partnership with Milgard Windows & Doors
I love the trend of full walls of windows or doors. Don't you? Natural light is so good for the soul! A beautifully unobstructed view of the outside transforms an ordinary room into an indoor/outdoor oasis.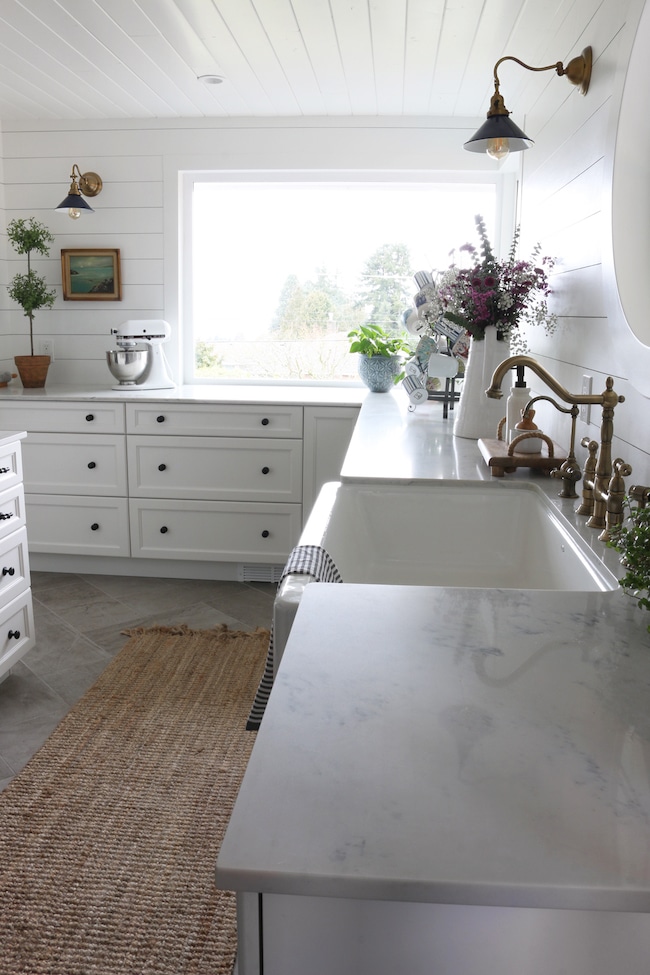 Staying home 24/7 has made me especially grateful for our large windows! We feel fortunate that the previous owner of our home had installed high quality Milgard vinyl replacement windows. It's one of the main features that drew us to this house! It's been so nice to have energy efficient, durable and easy to use windows. Many of our older homes had drafty inoperable windows, which made day to day life uncomfortable all year round.
Replacements windows will not only enhance the curb appeal of a home, but will also upgrade the look and feel of the interior. Windows are one of the best investments you can make in the value of your home, yet they are so much more than that. I would think of them as a daily investment in your emotional well-being.
I've been dreaming lately of how we could someday incorporate a wall of windows that would look out to our side patio. I saw this video of a kitchen remodel with a moving glass wall system and it has inspired all kinds of creative ideas!
It got me dreaming of ways I could add more windows and doors to our home! (I guess that's what happens when I'm in my home all day every day!).
So far I've decided I want to add doors between my bedroom and living room so we can take advantage of the natural light and view. I'm also dreaming of the possibility of adding larger windows in our bedrooms and several sets of patio doors to the outside.
Some of my favorite window trends right now are:
Oversized walls of windows or patio doors
Black or dark window frames
Bay windows for built-ins or a cozy seating area
Transom windows
If you are dreaming of new windows as well, many Milgard dealers are offering virtual consultations! Dealers are happy to come and measure for new windows and doors (showing the utmost care and of course using the 6' social distancing rule) or can show homeowners how to measure the window themselves so they can still provide a quote!
A virtual consultation works well with the Milgard Tax Refund promotion because homeowners can "Order Now", and "Install Later" (once we get back to normalcy)! 
What new windows or doors would you like in your home? Leave a comment below for a chance to win a $50 Visa Gift Card.
Winner will be selected at random on Thursday April 16th. You will be emailed if you win, please reply within 48 hours with your mailing address to claim the prize.